In an ever changing world, it is so exciting to see new and innovative methods of designing and building a home. The imaginative engineers and designers at Discover the advantages of modular prefab homes. Explore our guide for design ideas and budget-friendly solutions for your next home project.Compass Green have taken innovation to new heights, and their technology and naturally inspired design philosophy is both refreshing and brilliant. We provide a detailed overview their modular prefab home, and highlight their designs and innovations, as well as a providing broad overview of style and price for these amazing homes.
Concept & Philosophy – Modular Prefab Home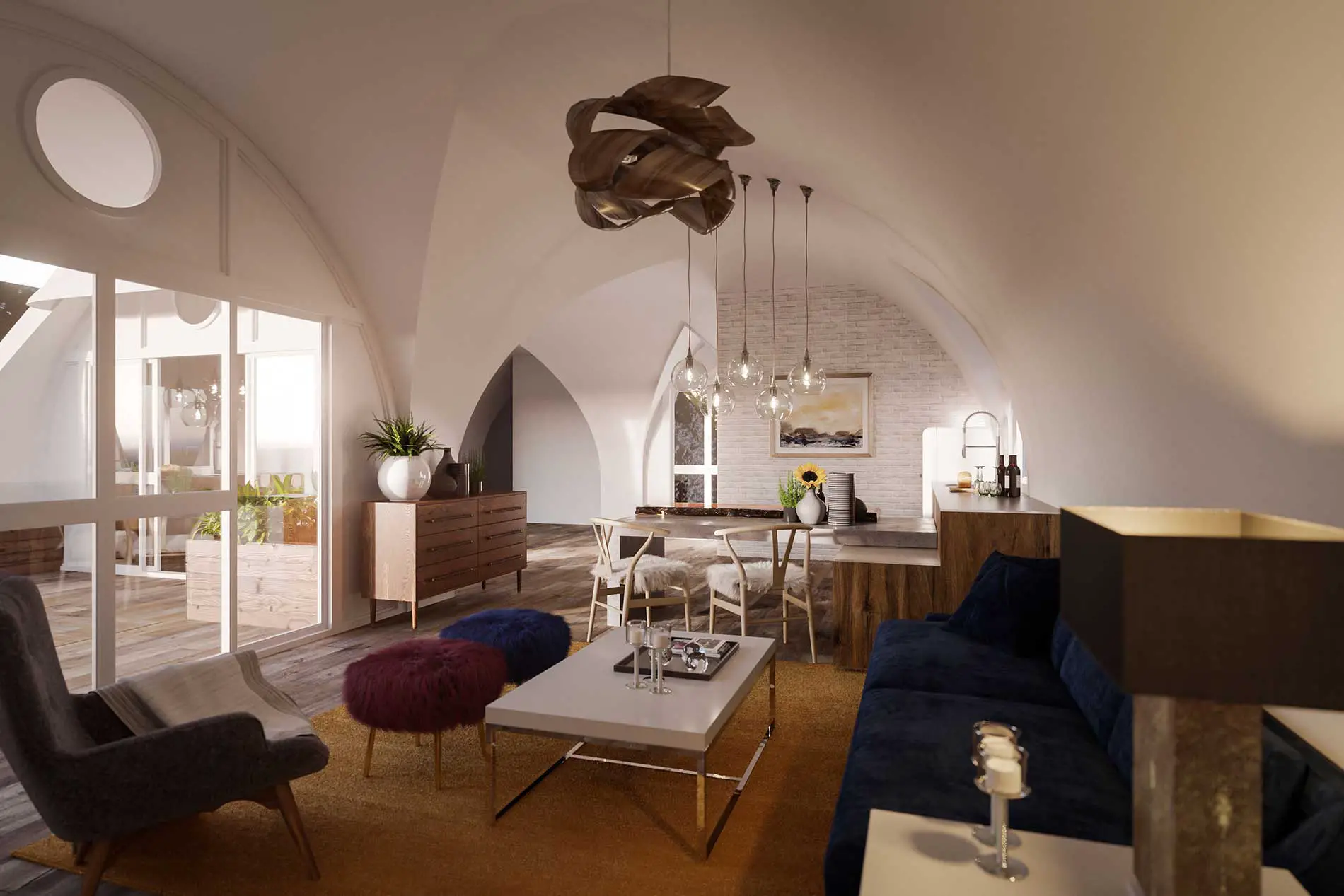 The great minds at Compass Green have developed some amazing home products. In deference to many in the marketplace, Compass Green has taken an unique approach to the development of their homes, and their entire corporate philosophy. Their products are designed in such as way, as to "enable people to co-exist with nature in new ways", and aim to create balance through their architecture, by restoring that connection to nature. How this translates into reality turns out to be quite remarkable, and the structures and homes they have designed are nothing short of stunning and innovative.
Compass Green – The Technology
The materials used to build these structures are a form of Fiber Reinforced Polymer (FRP) – which is very similar to that used in the aerospace industry, and offers numerous advantages over traditional building methods. Most importantly, the relatively quick build times for these structures can be of great benefit to many who do not have vast amounts of time and money to spend on long term construction jobs, and/or on keeping carpenters and builders busy for months on end. The exact amount of time for construction can vary of course, but in the simplest of cases, the primary structures can be completed in only a matter of days, once the primary panels and materials have been prepared and delivered.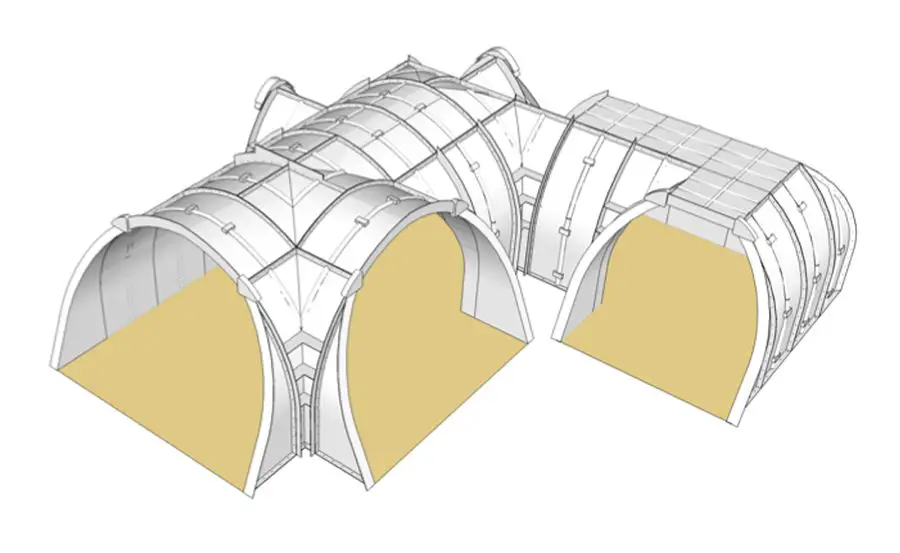 Durability and Corrosion Resistance – the materials used offer substantial benefits related to "wear and tear" – offering enhanced resistance to weather damage and associated corrosion over time, when compared to traditional builds.
Design Flexibility and High Strength – the FRP technology used in the construction and building of Compass Green products means that panels can be moulded into creative shapes and forms, offering myriad opportunity to create imaginative structures of almost any shape and form. Additionally, the materials used can be manufactured to exceed the strength of aluminum, or steel – offering enormous strength to the structures.


Energy Efficient – the composite materials used in the creation of these structures have extremely low thermal conductivity, which means they do not easily conduct heat or cold, and offer significant benefits to the energy efficiency of the buildings. This can translate into lower heating and cooling costs, and ultimately, a reduced impact on the environment.
Compass Green is also forward thinking, and offers additional options to any of their builds,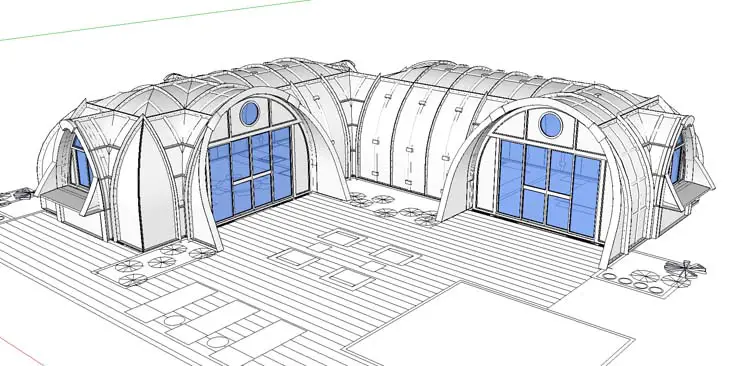 including smart home and solar integration, in addition to home management tools that will further enhance your living experience. Furthermore, they offer a complete range of efficiency enhancing products from efficient windows systems, to water filtration and "living roof" options. We feel that they really did their homework when developing these innovative products.
Finally, but in no way less important that the other points – as these structure generally tend towards a domed shape, their profile has a natural resistance to high winds and other extreme conditions, such as hurricanes. In certain areas, where these extreme conditions are a possibility, these structures can offer increased peace of mind.
To be fair, we could write at nauseam regarding the additional benefits of these designs, but it suffices to say, they are numerous, and well worth checking out.
Cost & Delivery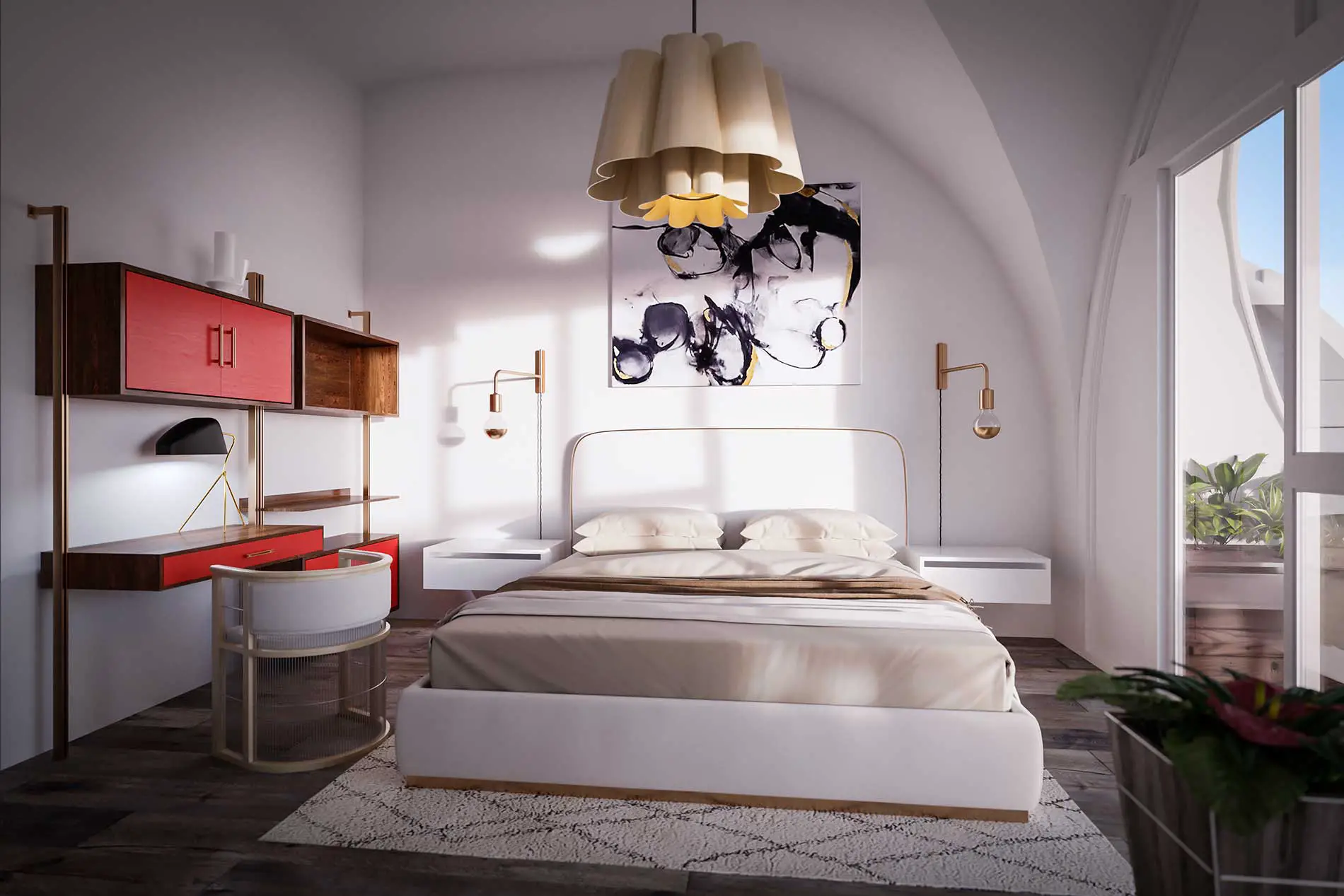 From the outset, Compass Green appears to have worked hard to develop a model and form of building that is a truly competitive alternative to traditional home building, and does so at competitive and affordable prices. Taking it a step further however, their technology and methodology offers a much more efficient construction with respect to energy consumption and building maintenance. They reasonably set their sites on two key elements of a new home – the cost of the build, and the cost of ownership. The latter of which becomes extremely important in a world of increasing energy and maintenance costs, and their analysis suggests a potential 80% saving on energy costs alone over time.
Price quotations for each of their designs includes much of what is required to build a home, and includes:
Main Drawings – including the construction and foundation drawings to be used for securing building permits, and for build purposes
FRP Shell – the main structural components of the enclosure
Fasteners and Sealants – the elements used to bind and hold the panels together
Assembly Manual & Details – these are prepared and included in the price so that your contractor can easily follow and build the structure
They have worked hard to provide 'turn key' pricing for their homes, and while they are not the contractors themselves, have determined that a general cost per square foot for a finished home is between $125 and $200. They rightly point out that they provide the materials, technology, and detailed building plans to determine and estimate of costs that would enable a contractor to build your home, and that the price will vary depending on the contractor you select, and the pricing agreements you make for their labour and time.


They offer a number of great designs, and even some underground shelter options (wine cellar/cold storage anyone!) in various sizes and forms, and their prices at the time of this article are as follows (full Gallery for all products is available at the end of the Article):
Studio
| | |
| --- | --- |
| | |
| | |
| Compass Green – FRP Homes – Everglades | Compass Green – FRP Homes – Rainier |
|  Everglades (225 ft2) – $19,000 | Rainier (255 ft2) – $24,000 |
| Compass Green – FRP Homes – Jasper | |
| Jasper (370 ft2) – $28,000 | |
One Bedroom
| | |
| --- | --- |
| | |
| | |
| Compass Green – FRP Homes – Terranova | Compass Green – FRP Homes – Gannet |
| Terranova (370 ft2 Hotel Room) – $24,900 | Gannet (635 ft2) – $46,000 |
| Compass Green – FRP Homes – Columbia | |
| Columbia (946 ft2) – $64,000 | |
Two Bedroom
| | |
| --- | --- |
| | |
| | |
| Compass Green – FRP Homes – Double Terranova | Compass Green – FRP Homes – Kluane |
| Double Terranova (799 ft2 Double Hotel Room) – $49,900 | Kluane (1266 ft2) – $82,000 |
| Compass Green – FRP Homes – Biscayne | |
| Biscayne (1400 ft2) – $84,500 | |
Three Bedroom
| | |
| --- | --- |
| | |
| | |
| Compass Green – FRP Homes – Denali | Compass Green – FRP Homes – Yellowstone |
| Denali (1675 ft2) – $96,000 | Yellowstone (2020 ft2) – $106,600 |
Four Bedroom
| | |
| --- | --- |
| | |
| | |
| Compass Green – FRP Homes – Sequoia | Compass Green – FRP Homes – Acadia |
| Sequoia (2408 ft2) – $148,000 | Acadia (2500 ft2) – $150,000 |
| Compass Green – FRP Homes – Yosemite | |
| Yosemite (3500 ft2) – $188,800 | |
Underground Shelters
| | |
| --- | --- |
| | |
| | |
| Compass Green – FRP Homes – Underground Shelter 225 sq.ft | Compass Green – FRP Homes – Underground Shelter 250 sq.ft |
| 225 ft2 – $24,900 | 250 ft2 – $29,900 |
Benefits & Pitfalls
If you've taken the time to read all the details above, it is clear that there are numerous benefits to the products created by Compass Green.  From inspired design, to practical usage of space, and great efficiency – these buildings are truly fantastic.  Added to these great benefits, they are environmentally sensitive, and take advantage of the natural landscape in a way that provides additional strength and beauty.  Economically speaking they tick all the boxes, and are both affordable to build, and offer substantial savings in maintenance and energy costs over time.
These designs are certainly 'non-standard' –  meaning they are not the type of home you would see on a residential street every day.  For some, this may present an aesthetic challenge, though their benefits mitigate most concerns in this regard.  From a municipal stand point, there may be some challenges gaining acceptance, given the penchant with developers, and within planning departments, to keep residential districts looking uniform, and without much difference between structures, save perhaps for reversing which side of a home the garage is placed.  That said, the Compass Green designs would add enormous aesthetic improvements to nearly any residential neighborhood or acreage.
Summary & Overview – Modular Prefab Hom
It is clear to us that these homes and structures are truly remarkable.  From design, to technology, build quality, innovation, efficiency and cost – they have all the hallmarks of a great product.  It is our opinion that it is well worth heading over to Compass Green and having a look at their offerings, and get in touch with them to talk about your design ideas and plans to get their feedback and support.
Gallery
Check out the entire collection, and get all the details about Compass Green homes – we hope they offer some great inspiration and ideas, if not a future home!
For some other great prefab home ideas, check out our articles on Dubldom prefab, and another innovative flat-pack popup home – M.A.DI. Home. They are some great alternatives that are sure to inspire you.
Let us know your thoughts!  To stay up-to-date on all our articles, tutorials, product ideas and inspirations – subscribe to our newsletter and stay in touch!