There are global issues with the high cost of living, and throughout the world there are companies and organizations looking at new and innovative ways of mitigating housing costs. One solution, which is a kit home designed and developed in Australia, is the Ecokit home. The designs and concepts offered by Ecokit are refreshingly innovative, and more importantly, very economical. Check out the details on this great kit home, and we think you will be as impressed as we are with this incredible small home solution.
The Ecokit home is designed to be delivered, and then constructed on site. The time to build will vary, but in general, once the basic foundations and services are prepared, construction of this kit home should only take a matter of days, depending on the experience and skill of those putting it together. Theoretically, any homeowner could do the construction themselves, though it is always recommended to have the guidance of a skilled contractor.
As mentioned, the basic foundations for this kit home must be prepared prior to construction, though the form/type of foundation can vary, and be either concrete slab, basic footing, or even ground screws. The EcoKit concept provides great flexibility and cost saving in this regard, and depending on your municipal regulations and requirements, may offer cost savings depending on which foundation you choose.
The Ecokit house includes all the necessary components and parts to build a full shell, including weatherproofing and insulation. Beyond this point, they provide the homeowner with the opportunity to source local supplies for cladding, roof and any decking you may wish to add. The benefits of this are lower shipping costs, and the ability to purchase specific materials that may be less expensive when purchased locally.  A full gallery is available at the end of the article.
Ecokit – Available Kit Home Designs
The basic concept of the Ecokit make it very extensible, though the basic platforms provide the primary framework from which you can expand. They can be single storey, or have an additional second storey/loft added. The following are the highlighted designs that Ecokit provides as starting points for all interested customers.
Ecokit StartUp – Studio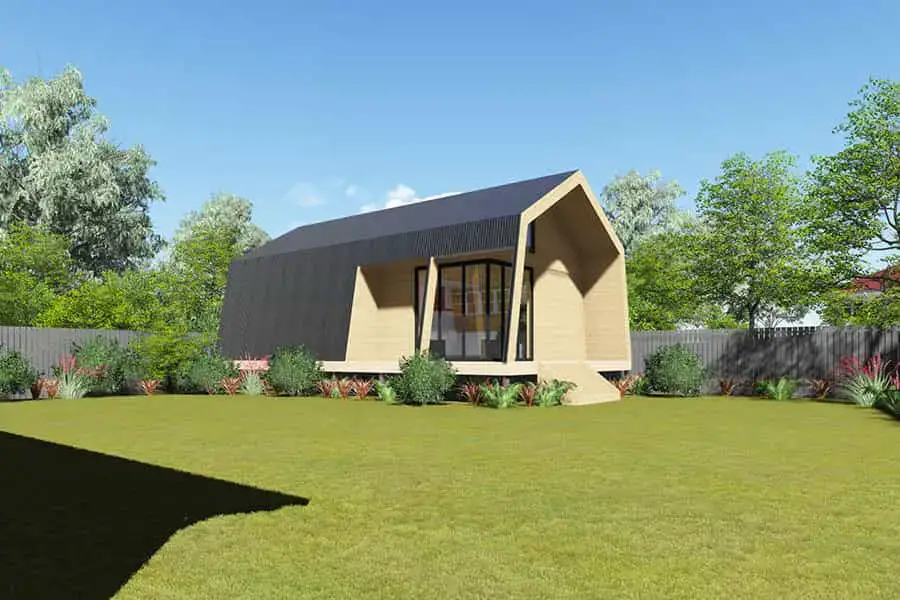 Basic Price: AUD $125,000 ($97,620 USD)
(Including full shell & weatherproofing only)
Size: approx. 50 m2
Bed/Bath: 1 Bathroom/1 Studio Bedroom
The basic Ecokit StartUp is a compact design, with a single ground floor. It is suggested by Ecokit, that this kit home is suitable for smaller urban lots, or vacation properties in the mountains, or forest environments. This design features a covered porch in both the back and the front, and offers great space for relaxation. A unique large glass corner door provides additional lighting, and opens to "bring the outside in". This design is great as a first home, and as mentioned, this kit home is designed to be extended as and when required.
---
Ecokit StartUp – 2 Bedroom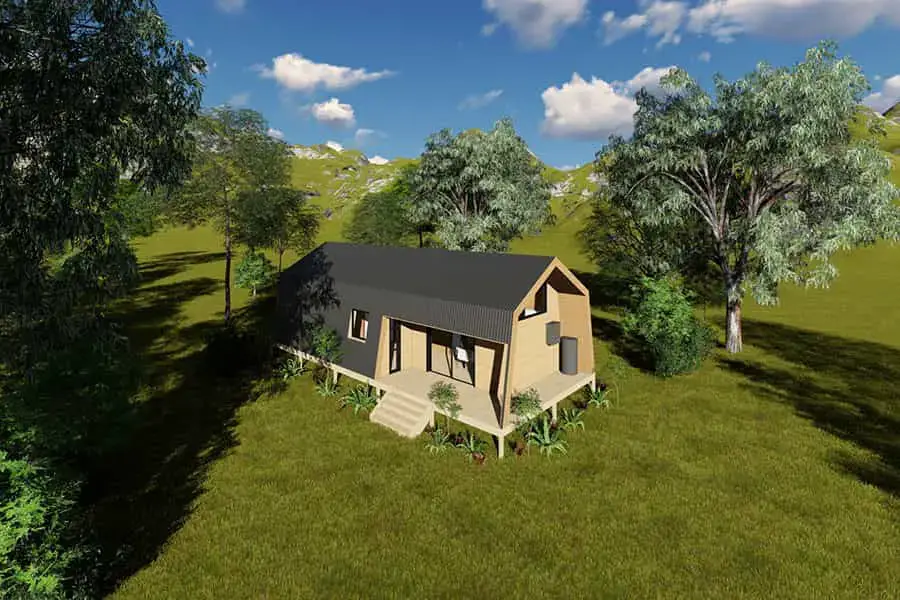 Basic Price: AUD $150,000 ($117,144 USD)
Size: approx. 70 m2
Bed/Bath: 2 beds + 1 bathroom
The StartUp model of the Ecokit home is an extended version of the studio, with additional space, including two bedrooms and a spacious storage loft.
---
Ecokit GrowUp – 2/3 Bedroom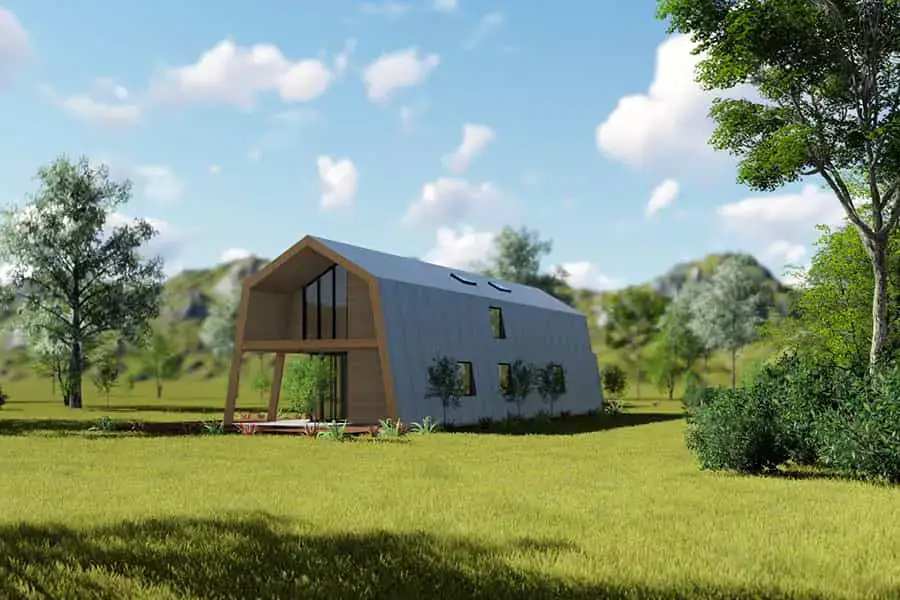 Basic Price: AUD $160,000 1($125,000 USD)
Size: approx. 135 m2
Bed/Bath: 3 beds + 2 bathroom (1 Bedroom is a master suite with ensuite bathroom)
The largest of the optional designs offered by Ecokit is the GrowUp kit home. It is a two storey house, and is a great design for anyone looking for a larger living space. The GrowUp features the signature roof shape, and includes a two-storeys and unique design. The extra large windows provide additional light, and the inclusion of a sliding glass corner door offers great views, and easy access to the outside. As with all their designs, this kit house includes a substantial sized porch, which allows for additional shade and outdoor enjoyment throughout the year, and in every season.
Ecokit homes have growth and customization in their planning, and all their kit homes are designed with modularity in mind. Buyers who wish to add to their homes may do so without compromising the home in any way. This means that you have the option of making additions to your home, even after you have completed your first build, any time you are ready. This is an unique opportunity, and really adds to the innovative nature of the Ecokit home.
Ecokit provides a great tool that outlines the base pricing and other details as an estimate to get you started. The very practical approach they take to providing information makes their offering very appealing.
Key Features
The Ecokit home comes with a variety of great features that differentiate it from other products in the market. From the inclusion of large windows for additional light, to engineered wood framing and covered decks – the Ecokit home has so many great features.
Large Windows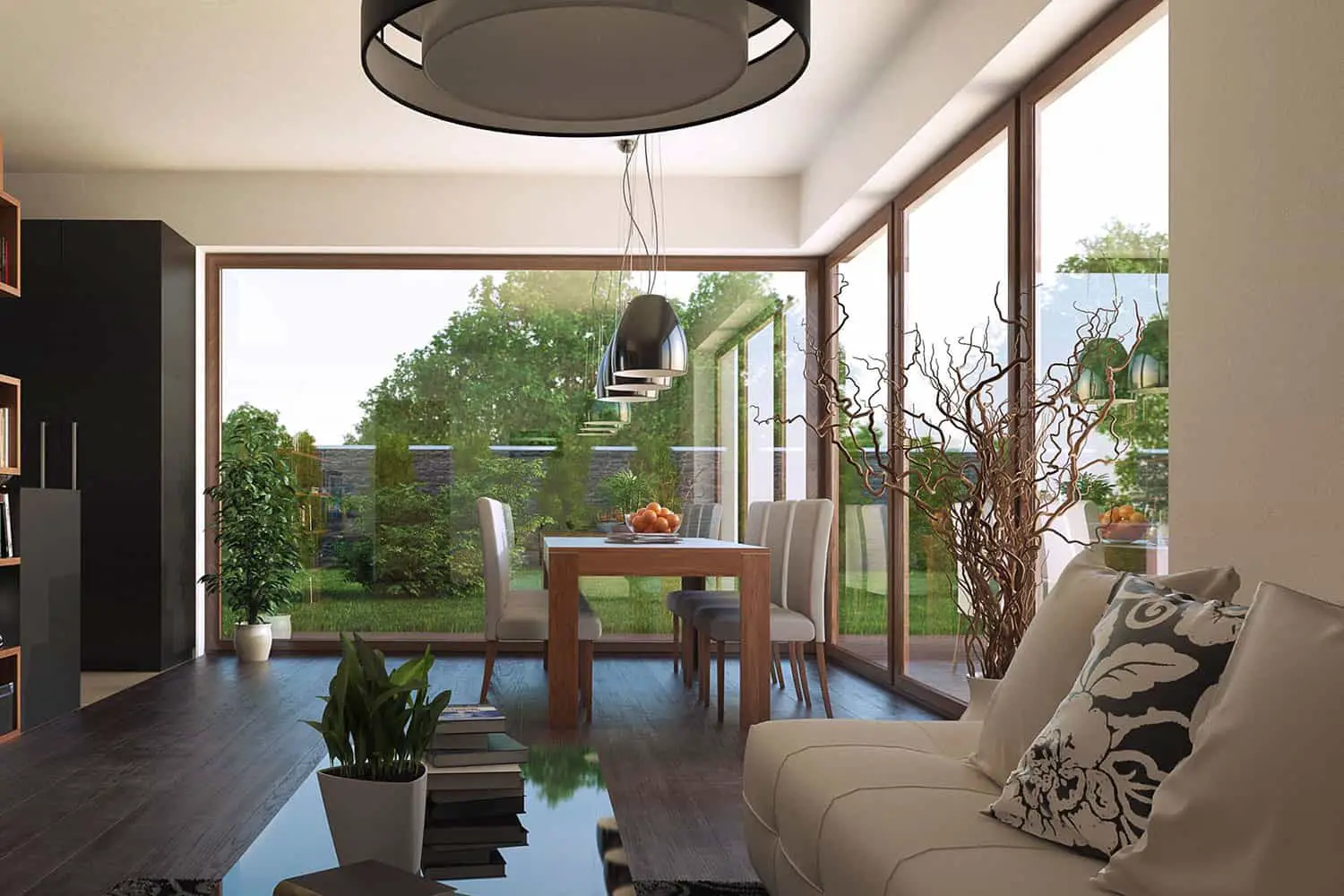 In smaller properties, the quantity of light streaming in has the great effect of adding volume and a sense of space to the home. The Ecokit kit home provides this, and ensures that the living experience is as 'large' as can be, even in a their smaller footprint kit homes.
Decking and Vertical Garden
The Ecokit designs all include covered porches, and the potential to have wall/hanging gardens. The inclusion of these features adds enormous potential to the buildings, and is a great additional feature.
Roofing
Ecokit has done their homework, and while the roofing materials are optional, their tile roof offering is both well researched, and practical. The roofing system they have selected offers faster installation, which reduces installation costs, while remaining efficient and safe. Additionally, for those who are interested in alternative power/heating options, the kit home from Ecokit can include photovoltaic/solar and water heating systems as part of their roof installation.
The Frame
Ecokit structures are created using engineered wood products, meaning their materials are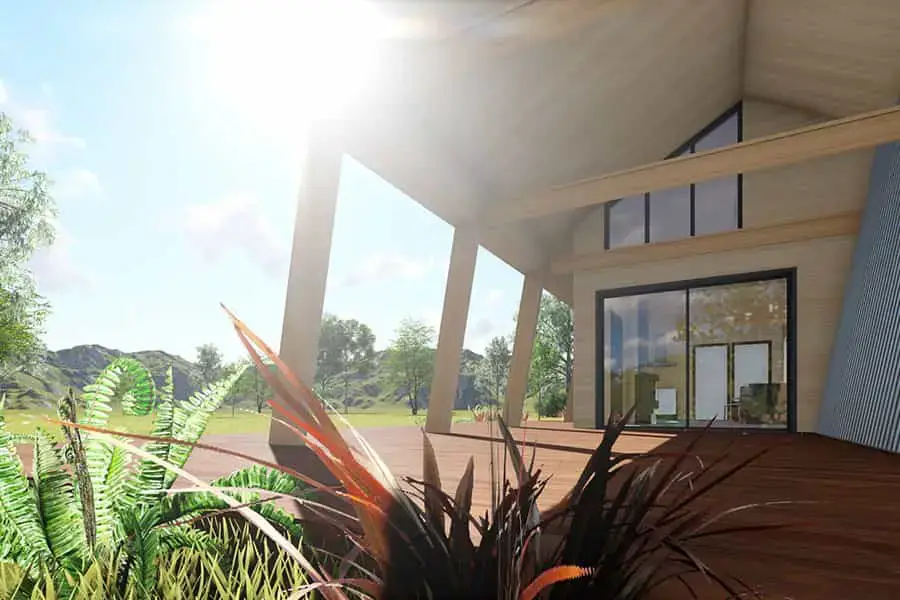 made of recycled wood materials that are as strong, or better, than traditional wood products. The entire kit home can be constructed without using cranes, or heavy lifting equipment, and are highlighted as "easy to assemble".
Glass Doors and Airflow
The Ecokit designs have taken the idea of "bringing the outside in" to a very practical conclusion. Their structures include glass doors, that can be opened to let the nature in. The large glass walls and folding door (or sliding if you prefer), allow you to enjoy the sights, sounds and smell of nature!
Flooring & Walls
Every one of these kit homes from Ecokit are build to create an airtight enclosure. With thermal and acoustic insulation, the structure remains comfortable, regardless of the weather outside. All the materials they have used in their kit home insulations are made of recycled materials, so there are fewer chemical products in your home. They have taken pride in providing homes that are of the highest quality, and are sincere in their desire to provide homes that are sourced and made from sustainable materials.
Covered Porch
Having the opportunity to enjoy the outdoors, whether it be from the large windows and sliding/folding doors, to the inclusion of large decks on all the Ecokit homes, is a wonderful idea. Offering both shade, and the opportunity to fully enjoy the environment outside, is a brilliant concept that is well worth noting.
Included and Excluded Items
Included in Basic Kit
Excluded Items

engineered construction system (structurally certified & simple to assemble)
super insulation (R>6)
smart external & internal membrane
windows & doors (timber frame, double glazed as standard)
mechanical ventilation with heat recovery

appliances
foundations
connection to the grid
interior fitout & furniture
kitchen / bathroom

Optional Additions

composting toilets
plumbing
wiring
roofing
cladding
decking
skylights & roof windows
solar system / batteries
water tanks
The Ecokit Buying/Build Process
Ecokit has streamlined their buying and build processes to a high degree. They have outlined as clearly as possible, the entire process of buying one of their kit homes, from preliminary cost estimates, to concept design, providing construction drawings and finally kit production and delivery. If you are interested in checking out the full process, it is available here.
We have contacted Ecokit directly, and they mentioned that Ecokit house can be delivered nearly anywhere in the world, and arrangements can be made for delivery by contacting them directly at www.ecokit.com.au. Costs will obviously increase depending on where in the world you may wish to have the new home, and it will be important to ensure you have done your research regarding any permits or permissions you require to receive and build this kit home.
Summary
We really think these kit homes from Ecokit are fantastic. From design, to their use of sustainable materials, and the attention to space enhancing features like large windows and glass doors, these are remarkable homes!
Let us know your thoughts, we love to hear from your experiences, and try to respond as quickly as possible!  To stay up-to-date on all our articles, tutorials, product ideas and inspirations – subscribe to our newsletter and stay in touch!
Gallery