**Update – May 2018 ** Cabin Fever has transitioned their small prefab home business into Shipping Container refurbishment, and is now changing their name to Little River Box Company – they will transition away from the Prefab market, and it is uncertain whether their products will be available any longer.
We are always looking for innovative and inspiring living solutions, and Cabin Fever's Maxwell small prefab home definitely have us intrigued. The design comes in a variety of sizes, and is incredibly flexible – their various models come in a variety of sizes, and can even be constructed as multi-story homes, adding another dimension to these innovative homes.  With pricing that will surprise, these homes come in a variety of shapes and sizes, both finished and unfinished, and range from $30,000 to $92,000 with an estimated additional 40% for site preparation, foundation and services costs.  These costs will vary, depending on the options you choose.  Impressively, their base model Maxwell 16-20 can be assembled by only two people in only 4-6 days!  This will vary depending on the foundation and other factors, but in general, these homes can be assembled in a relatively short time.
Cabin Fever manufactures the Maxwell homes in their factory, after which it can be flat-packed and shipped to any destination. In fact, they have sent their products to remote island locations, mountain tops, forests and into the hearts of back yards and gardens in cities all over. Once shipped, you can work with any local contractor (or yourself if you are skilled enough), to have it assembled. Of course, the preliminary foundations and services need to be prepared and ready, and then you are 'good-to-go' with assembly. They have designed their homes with an open wall concept, meaning utilities are installed much like in any other new home. This open wall concept also means that obtaining permits is more straight forward, as it is considered much like any other regular structure, and many municipalities have no restrictions as a result of the open-wall concept.
Models & Pricing – Maxwell Small Prefab Home
Cabin fever offers two different small prefab home models – the Maxwell and the Zip. They are shipped with a range of standard features, and can be customized and upgraded with a multitude of other great options. Additionally, if you would like to take your customizations even further, you are welcome to work with them in designing and customizing your home as you require.
The Maxwell 16-20

Complete Cabin (incl. Bathroom and Kitchen) – $43,450
Complete Open-Room Design – $35,750
Shell/Plus Cabin – $30,000

This is the most popular of the Maxwell models, and is 16'x20', and a full 320 ft2. It's relatively small footprint makes this design a perfect fit for backyards, and can be used as an office, studio, or additional guest room. The design is quite flexible, and it can include a bathroom, and even a full kitchen! When designed with all these great features, this model can be a comfortable living studio. The stylish design and flexibility of this model makes it perfectly suited for nearly any environments, whether in the city, or the country.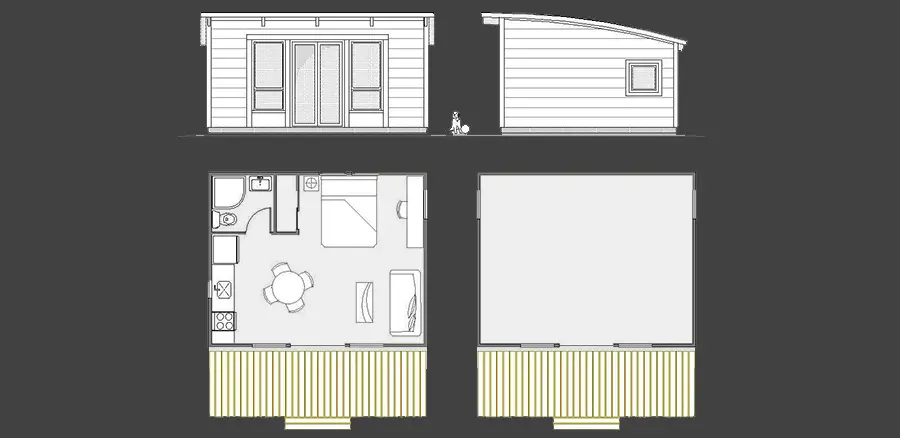 The Maxwell 16-28 Weekender

Complete Cabin (incl. Bathroom and Kitchen) – $50,200
Shell/Plus Cabin – $38,400

The Maxwell 16-28 Weekender includes both a bath and kitchen, and even has space for both a separate bedroom and spacious closet. The inclusion of full-length windows provide a wealth of light, adding to the spacious feel. They have named it the "Weekender:, though its ample 448 ft2 of living space makes this a real option as a small home for full-time living. This model is perfectly well suited as a backyard apartment, or "bunkie"/guesthouse
The Maxwell 16-36 Live Aboard

Complete Cabin (incl. Bathroom and Kitchen) – $65,450
Shell & Cabin – $49,390

The 16'x36′ Liveaboard is named after a small space, designed for full-time living and includes features of a full-sized home. The open-plan living area and kitchen are well lit with the inclusion of 8ft tall glass doors and windows. The kitchen, designed in an "L" shape can feature full-size appliances, and includes an additional full-height pantry. The private bathroom is spacious, and can be equipped with either a shower or a bathtub.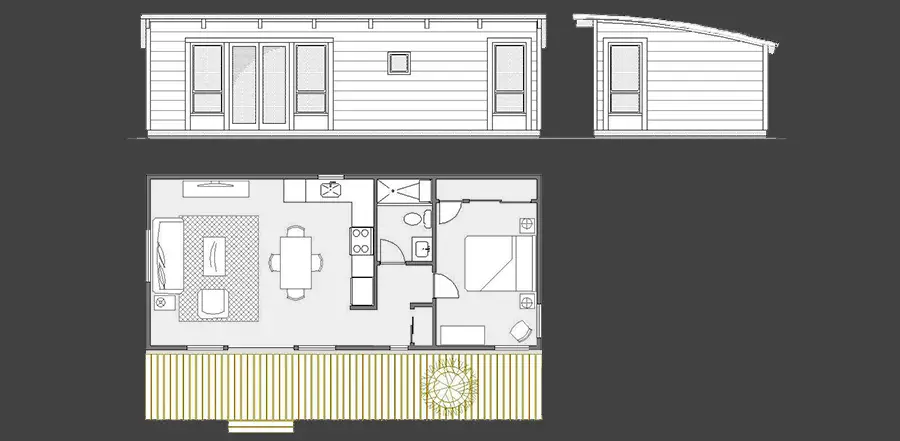 The Maxwell 16-42 2 Bedrooms and 1 Bathroom

Complete Cabin 2 bed/1 bath – $75,350
Shell & Cabin – $57,640

The Maxwell 16-42 includes two bedrooms and 1 bath, and is 16'x42′ in size. It shares the same kitchen layout and exterior façade as the Maxwell 16-36 model. The floor layout differs somewhat with the bathroom in the rear corner of the unit. The Live Aboard features plenty of open space in a relatively small footprint. They use the space smartly, and do away with no hallways and other space wasting features.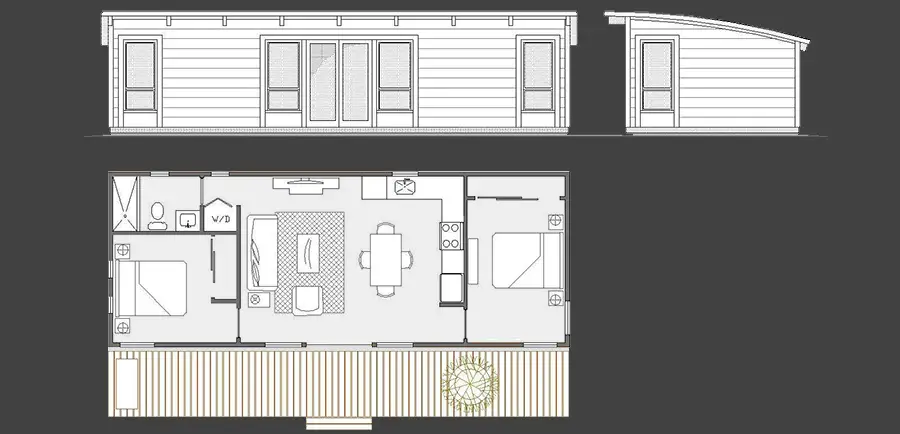 The Maxwell 16-50 2 Bedrooms and 2 Bathrooms

Complete Cabin 2 bed/1 bath – $92,100
Shell & Cabin – $72,800

The Maxwell 16-50 the largest model made by Cabin Fever. This boasts 2 bedrooms and 2 bathrooms and is 16'x50′ in size, packing a total of 800 ft2. The exterior facade includes symmetrical window systems and doors plenty of glass to allow for substantial natural light. The addition of windows in the corners of each bedroom additional flair and design, while adding even more light into the structure, and creating a much more airy environment. The kitchen has a full-height pantry, providing ample storage, and master bathroom can be designed with either a bathtub, or a shower.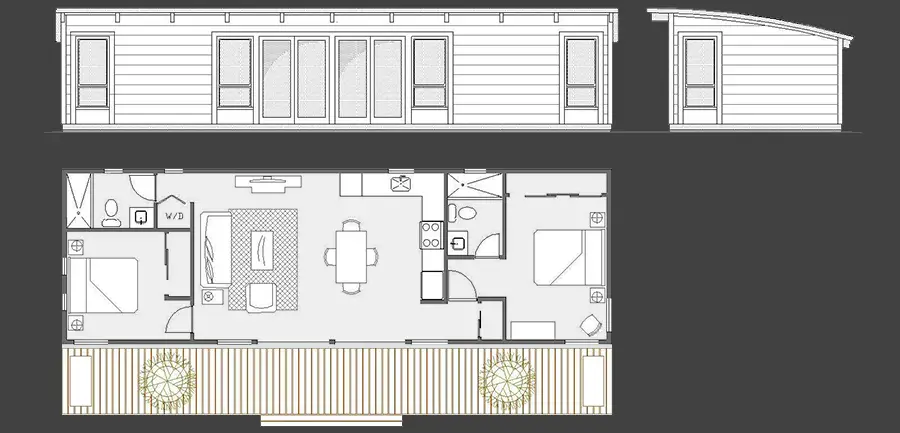 Order/Delivery Times & Process
The time it takes to have your own home from Cabin Fever can vary, depending on the specific options you choose, though they have been quite open in providing some overview to give some perspective on this. They've outlined their process and delivery timing as follows:
| | | |
| --- | --- | --- |
| Task | Timing | Overview |
| Proposal & Spec | 1 Week | Working to outline your needs and requirements, Cabin Fever provides a proposal including a schematic drawing, all the required specifications, as well as final pricing. |
| Ordering | 1 Day | 15% deposit upon ordering, after which they will begin preparing all building plans. The remainder of payment is outlined as: 50% due once permits have been received, and the balance due once manufacturing is complete. |
| Designs & Drawings | 3 – 4 Weeks | Preparing all construction drawings that are required for permit application and approval. |
| Permits & Permissions | 2 Weeks-2 Months | Submission/review of plans and other required paperwork to municipal departments for approval. |
| Fabrications/Building | 6 – 8 Weeks | After permits have been approved, construction of your home will begin within Cabin Fever facilities. Foundation and services/utilities installation can begin during this time. |
| Shipping | 1 Week | Homes are delivered via truck, and Cabin Fever handles all shipping arrangements.  If the home will be shipped outside of the country, all materials are packed and prepared into shipping containers – and delivered via port-to-port shipping. |
| Assembly | Days to Weeks | Final assembly timings will vary depending on the specific designs, and the complexities resulting from that.  Simpler structures can be assembled more quickly than more complicated ones, and they work with the customer to assist in having the structure built as quickly as possible. |
We think this is a are truly remarkable prefab home concept, and with affordable pricing like this, would make a great solution to small space living!  Whether as a cabin, or a backyard studio, office or guest house – the flexibility of these designs make them perfectly well suited to nearly any use – so head over and check them out!
We are inspired by small space living, a life less cluttered and a lifestyle of simplicity. We hope you enjoy these ideas as much as we do, and that they give you the encouragement to try something new! For some other great inspirations, check out some of our other great prefab home and cabin ideas here.
Let us know your thoughts, we love to hear from your experiences, and try to respond as quickly as possible!  To stay up-to-date on all our articles, tutorials, product ideas and inspirations – subscribe to our newsletter and stay in touch!
Gallery