In modern times, there is a recognizable interest in living more simply, and this trend definitely extends to the homes we live in, and the size of homes we choose. For many, a smaller home, or even a tiny home, is an attractive option for any number of reasons, from cost of living, to basic quality of life. The choice of style, function and portability is largely a relative one, though we have taken the time to highlight some of the most inspiring tiny house floor plans that we think make incredibly attractive homes.
There is a fine art to simplifying your life, and it means more than just cleaning out things that have been accumulating and taking up space. The art of living simply means a complete change of perspective and expectation, and for so many people, it also means downsizing their lives completely. The benefits of such an approach are many, including cost savings, piece of mind, and a general sense of living a more manageable and fulfilled life. The homes, designs and ideas we present here are intended to provide broad inspiration to anyone pondering such ideas, and these tiny house floor plans are a great starting point for such a journey.
Tiny House Floor Plans
1. The Santa Barbara (839 ft2) by The Homestead Partners
The first home in our list (which is presented in no particular order of preference), is a wonderfully straight-forward California inspired one bedroom gem. It features a single bathroom, and plenty of outdoor living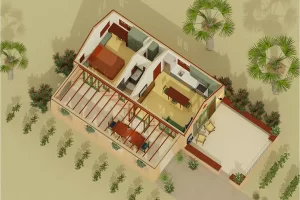 space to provide an airy and spacious feel that invites plenty of light and warmth into the home. The Santa Barbara is is roughly 839 ft2 including outdoor patio, with 398 ft2 of living space, and was designed by Homestead Partners as a part of a wonderful collection of floor plans and designs created to highlight small space living.
The interior is designed to feel spacious and provide plenty of space, with vaulted cathedral ceilings and exposed rafter beams for additional effect. French doors provide a luxurious feel, offering fantastic views to the outdoors, from both the living room, and the master suite. The
design can be customized to your specific needs, but the general design aesthetic certainly provides ample inspiration for anyone considering a smaller home option.
The full sized open designed kitchen provides ample space for anyone who loves to spend time cooking, and of course, the open space makes entertaining a joy!
There is ample space for a full sized washer and dryer in the separate utility area, and a spacious bathroom ensures you will likely never feel cramped or short of space.
One of the truly wonderful aspects of this great design is the covered outdoor patio area, which offers an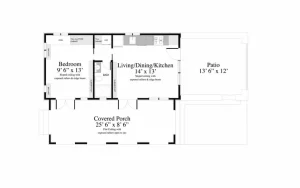 immense amount of additional space for relaxing and enjoying the view outside, and the fact that it is covered means you can do so whether raining, or when you want some soothing shade from the sun on a hot day.    This is a a great design that definitely is worth considering.
2. Forest Cottage (540 ft2) by House Plans
This design provides a very traditional and quaint forest cottage feel, with high ceilings, and sloping roof lines that create an almost fairytale-like feeling. The floor plan provides all the amenities you need, in a small and
beautiful footprint. It's diminutive size does not present itself in the full range of features and amenities this tiny house floor plan presents however. At 544 ft2, this cottage offers a generous living room and kitchen area, linen and utility area with space for a stackable washer and dryer, as well as a comfortably sized bedroom with ample closet space.
With plenty of windows to allow nature in, they provide great light to fill the space. This floor plan is straight forward and effective, and makes a great consideration. The design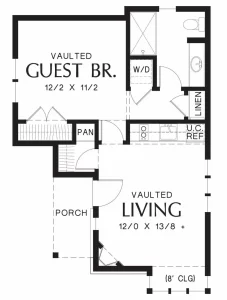 includes a small covered porch area at the entrance, as well as a pantry and additional closet for coats, shoes and outdoor clothing. Rounding out the design is a full sized bathroom, with space enough for a bath tub to soak away those quiet relaxed moments.
What makes this design truly stand out, is the tradition styling, and classic forest cottage feel. It would be a perfect small home, or even a guest cottage. We love this design, and think it is a great design worth considering for small space living.
3. Elinor St. Studio (640 ft2) by Nir Pearlson
This design is inspired by nature, and the architect's desire to create
structures that embrace the natural world around them. This fantastically designed studio home features a sloped shed style roof with large windows, and provides plenty of open space with natural light, while ensuring lots of valuable storage space. The sloping roofline means plenty of additional lighting can shine in through the large upper windows, providing additional views of the sky above.
The sloping roofline of this intriguing tiny house floor plan also creates a natural place for sheltered entry ways, or even a covered deck. The large living area can be used as a general purpose space, or use a Murphy bed or hide-a-bed and easily create a sleeping area for yourself or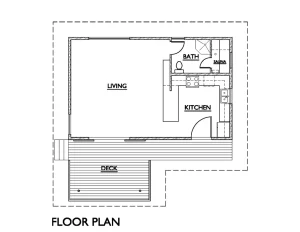 your guests.
One of the unique features of this design, is the inclusion of a dry sauna, for the ultimate in relaxation. Taking this relaxed atmosphere further, the outer terrace is designed to include an outdoor hot top for soaking and enjoying under the stars.
This design could easily be customized to meet specific requirements, but as a studio style, with large U-Shaped kitchen, it offers everything you could want in small space living!
4. Tiny House on Wheels (196 ft2) by The Tiny Project
For many, the tiny house movement has been a seed change in thinking about housing, and how to live. Nothing has been more symbolic of this, than the tiny house on wheels. The freedom to move and relocate
your home at any time, along with the practicality of smaller space living in general, is incredibly appealing. The Tiny Project embraces the philosophy of 'less house, more life', and in so doing provides potential home owners with the blue prints, schematics and floor plans that allow for the opportunity to build a dream tiny house on their own.
This model provides all the comforts of a larger space, and nothing is missing from their design. At 196 ft2 it is the smallest of the homes we outline here, but the portability factor makes this home attractive to many who may require this mobility. In many ways it is very much a standard tiny house design, with loft and living area, kitchen and area for washer/dryer combo and washroom.
What the Tiny Project has done, is ensure that their design package offers everything you need to build this home, from electrical, to plumbing and detailed construction instructions. It could be used by anyone with either the experience, or the willingness to put in the time to create their own tiny home. In other cases, the plans could be used by a hired contractor to build this house from scratch – definitely worth considering.
5. Denali XL (399 ft2) by Timbercraft Tiny Homes
This is another tiny house on wheels, but in truth, it is anything
but tiny. At roughly 400 ft2, it is one of the largest tiny houses that you can put on wheels. It is available on a gooseneck trailer (from 35 to 41 feet depending on your selection), and has some truly luxury styling, multiple entrances, plenty of storage and beautiful design.
The design features a large full bathroom, which is a great feature in a tiny house, and even has space for a combo washer dryer. The step bedroom its also large, and is high
enough to allow you to stand fully without banging your head, or crawling on your knees – this is an amazing and welcomed part of the design. The kitchen is large by tiny standards, and depending on the features you choose can include a dishwasher and other amenities. As the kitchen area is quite large, there is plenty of space for storage and cupboards.
The living area is large, with open beamed ceilings, which creates a great aesthetic, and plenty of volume to the space, meaning it never feels cramped or over crowded.
This is one of our favorite of the tiny house on wheels products on the market today, and we even highlighted it in our recent top 10 tiny houses list here at TAG Level.
Summary
Simplifying life, 'downsizing', or just the general desire to live in a smaller and more economical home, these tiny house floor plans are some fantastic options to inspire you on your journey.
For some other great articles on other home improvement, prefab homes and other simple living and lifestyle ideas, check out some of our other articles on Lifestyle and Home Design, and learn more about some great solutions and inspirations. Also be sure to check out all of our articles on Backyard Bunkies, Garden Houses and Sheds, and all the various inspirations that we've highlighted at TAG Level.
Let us know your thoughts, as we love to hear from you!! Be sure to Join Us to get future updates and other great inspirations and ideas from TAG Level.