5 Great Small Apartment Storage Ideas
Are you living in a small apartment without enough room to store all of your stuff? If so, then you're in the right place! Read on to discover five great small apartment storage ideas that will help you declutter and make the most of your small apartment or studio apartment space. With these creative space-saving ideas, you'll be able to live more comfortably and stylishly in your cozy abode, make your small space your own!
The Challenges of a Small Apartment and Small Space Living
Small apartments are becoming more and more common, as rental prices increase, and availability becomes more challenging. Living in a small space means designing your life around how to fit everything you need into a more confined and limited area, and coming up with creative ideas to decorate a small apartment. The great news is, in contrast to a large condominium or home, an apartment is easier to organize and design than alternatives. It can become somewhat more challenging when it comes to storage space, because that is often the first thing that is sacrificed in an apartment of limited size. Small apartments mean a small living room, small bedroom, and small kitchen, though there are some great ways to utilize the space you have so you can maximize your storage options, while creating the illusion of more space. With a bit of creativity and resourcefulness, you can make even the tiniest apartment work for your needs, but adding furniture for small spaces that not only accentuates your small living area, but can make your living space more homey.
The challenge of staying organized in many small apartments comes down to finding places to store all the things you own, from clothing to kitchen tools, linens, books or gadgets – the challenge is real! While this can be daunting at first, there are plenty of creative ways to design your space for optimal storage solutions – here are four key elements to consider as you get started.
Think vertically – take advantage of every inch of available wall space and use it as extra storage above or below existing pieces such as cabinets or shelves.
Invest in modular furniture pieces which double up as extra storage – bed frames with drawers underneath are perfect examples, while pull-out chairs on wheel offer an effective way to keep bulky items like plastic containers out of sight at all times without having them cramp up valuable floor space.
Invest in multipurpose furniture items like daybeds with shelving underneath or ottomans with hidden compartments inside – these serve as both attractive pieces and also allow for practical use. What's more add special hanging brackets for slatted curtains or shower rods which allow any line between two walls to be useful in storing items around it that aren't easy accessible but still close by when needed.
Don't forget accessories like open baskets or bag organizers which can hang on any wall-mounted bar without taking up too much room yet still remain within reach at all times whenever needed during everyday routine tasks – baskets also serve as stylish decoration too so don't forget them!
Taking these basics into consideration will go a long way towards maximizing the potential of your small apartment – but you should also consider personalized solutions based on what fits best for the specific layout of your own home – remember every centimeter counts!
Idea 1 – Entryway and Over the Door Storage Solutions
One of the best ways to make the most of your small apartment storage space is to use over door cabinets. These are often underutilized, as all you have to do to install them is place them over doorway, they are relatively easy to install, and instantly provide additional storage to your living area. This can help you free up other shelving space, and creates a convenient place to store items that don't need frequent access. Overdoor cabinets come in many different styles and sizes, so you'll be able to easily find something that will match your home's décor.
In addition to cabinets, there are other over-the-door storage solutions such as hanging baskets, hooks and racks. You could even install a tension rod and hang versatile storage containers off the back of a closet door for easy access. These easy to hang baskets, hooks and containers can store anything such as linens, cables, clothing, shoes or even canned food – anything you don't want taking up shelf, closet or countertop space can be placed inside to reduce clutter around your apartment.
If you really want to optimize your storage space in your small apartment, look into getting extra hanging shelves or portable cabinets that hang from the railings, closet rods, ceiling or walls and put them in areas like closets, pantries or laundry rooms where they won't be seen but still out of the way for when needed. Even if your apartment has limited closet space, adding shelves will help utilize that area more efficiently and make it easier for finding what you need when it comes time to put away items.
Idea 2 – Vertical Shelving Units
Vertical shelving units are a great way to declutter your home and maximize storage in a small space. They can be used for almost any type of items, including books, magazines, electronics, office supplies or decorative pieces. Vertical shelving fits in most spaces and can leave floor areas open for activities.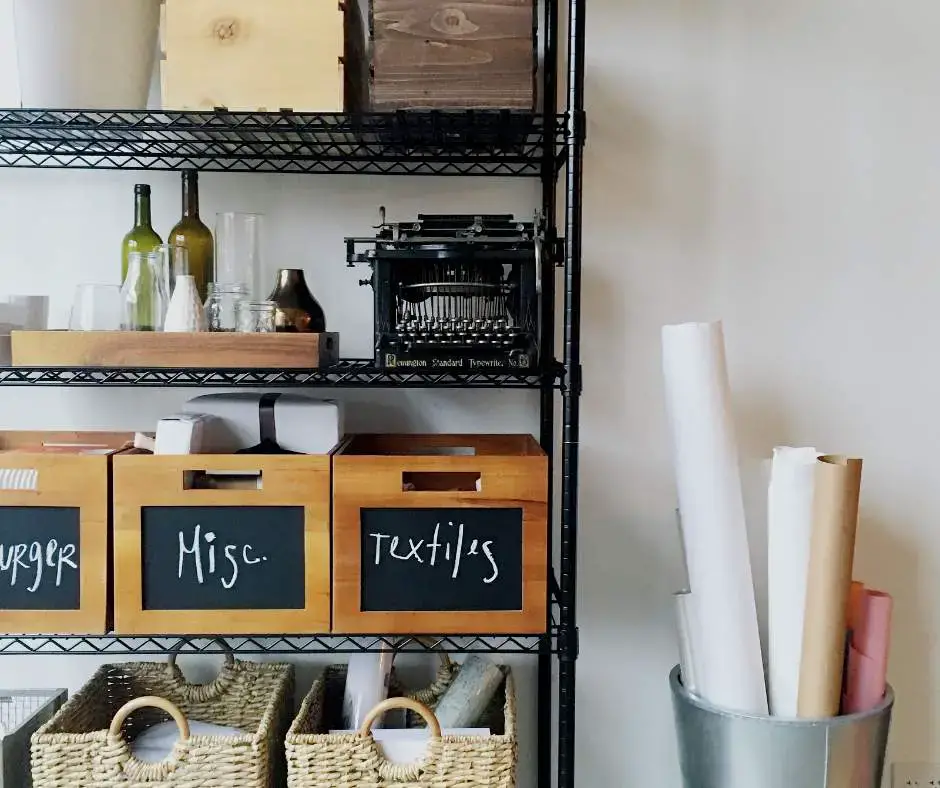 For the best use of vertical shelving, consider using light-colored shelving and open storage containers to create an airy atmosphere in your home (though any color palette is suitable, just be aware that darker colors tend to draw objects together, and create a smaller sense of space). Small baskets or colorful boxes make perfect addition to shelving units, and can be used for craft materials, toys and other small objects that take up limited space yet still bring visual interest to a room. Shelving units with adjustable shelves are also ideal as they can be adjusted to fit whatever you need to store on them, and allow you to add variation to your interior design.
Other benefits of vertical shelving include:
Its ease of use, as you can quickly access your belongings without using ladders or crawling around on the floor.
It's also much easier to move them around if needed, and as they are lighter and easier to move compared to bulky furniture pieces, can often be done alone without any need of additional assistance.
If you're looking for an affordable small apartment storage solution that provides ample additional space and flexible organization options, vertical shelving is definitely worth considering!
Idea 3 – Wall Mounted Cabinets
Small apartments can feel cramped and cluttered, but smart storage solutions present new ways to keep your living space tidy, and make your living room feel larger. Wall mounted cabinets are an ideal way to make use of your walls for added storage, and free up space in the rest of the room. This type of cabinet is a great way to organize items that pile up in small spaces, and can also function as a way to decorate a small space.
Consider investing in wall mounted cabinets that can hold heavier items like books, or larger items that you want to keep, but don't want visible every moment of the day. By using brackets or wall-mounted hanging systems, you can easily install and configure these slim storage solutions in any small apartment. Wall mounted cabinets come in many configurations, such as:
Full depth wall units
Shelves with doors and drawers
Even corner units designed specifically for tight spaces
Adding this type of furniture to your home will give you several discreet storage solutions without taking up valuable square footage or creating a crowded feeling in the room.
When shopping for wall mounted cabinets for a small apartment, look for designs with clean lines that won't draw attention away from the other furniture pieces around it. Choose muted colors like white or beige so it blends into the background better if needed. If you have an open floor plan with one larger room instead of separate walls and rooms, space saving furniture pieces are especially important to use so that you don't make the area appear crowded or cluttered with too much oversized furniture.
Idea 4 – Convertible Furniture
Living in a small space can be a challenge. To enjoy small apartment living without feeling cramped, you will have to keep your belongings organized and declutter your home. Convertible furniture offers multi-function and double duty usage, and is an easy way to free up space in your home, and helps to add a great aesthetic when you decorate a small space. Convertible furnishing can expand with you, creating more room when needed and less when not necessary. Don't let limited space stop you from embracing stylish design – their are some great decor ideas that are also practical, and make a small space more livable; take a look at some of the best fold-up furniture ideas that can make a big difference in your small room or home, and make your space feel more open and uncluttered.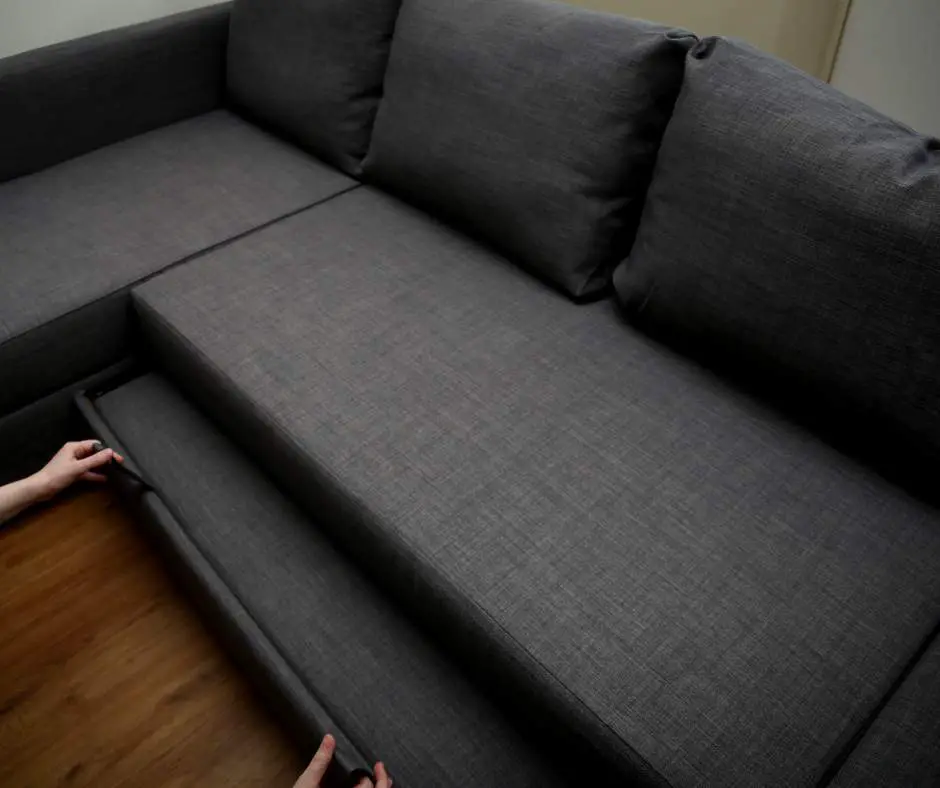 Idea 5 – Using Creative Containers
Small apartments can easily become cluttered and disorganized, but with a few creative ideas, you can maintain an organized and well-balanced decor while maximizing storage space. One great way to do that is to use multi-use containers in as many places as possible. Containers can be used for anything from packing away belongings out of sight, to displaying items on shelves.
When thinking of containers, if you're looking for something fashionable to add a touch of style while maintaining storage capabilities, consider stackable containers that come in various shapes and sizes and are ideal for storing items such as books, accessories and other knickknacks that would otherwise be taking up valuable floor space. They can easily be slid under the bed or stacked onto shelves towards the ceiling.
In addition to using containers for actual storage purposes, using them as part of the furnishings is another great way to declutter your home without sacrificing color or texture. Ottomans with removable cushion tops allow you to store whatever you'd like inside them without ever having people know – think throw blankets or board games! You might also consider purchasing furniture with drawers which will allow you greater flexibility when it comes to squeezing extra storage into your space.
By utilizing creative containers, whether it be for actual furnishings or solely for organizing purposes, these will increase your overall storage that little bit more whilst increasing the overall aesthetic look and decluttering your home at the same time.
Additional Considerations
Natural Light – try to allow as much natural light into your space as possible to make the space feel more airy and bright.
Floor lamps – furnishing with light can make a big impact on the sense of space in your home. Making use of table lamps, will also help to provide a warm and inviting feeling to your home.
Underbed Storage – taking advantage of the spaces beneath your furniture can provide even more storage opportunities in small spaces. When it comes to small apartment living, every centimeter counts!
Drop-leaf tables – instead of a dining table, consider using drop-leaf tables as a means of freeing up space. These pieces of furniture are used only at certain times of the day, so having the option to make them smaller when not using them is a great option.
Decorate your space – don't be shy about ideas to make your home sparkle. Whether it is a gallery wall, statement art on the walls, strategically placed curious, or simple color statements to add flair and personality – adding flair can make your whole room feel more inviting and attractive. Your design ideas are yours to choose, and you don't need an interior designer to come up with ideas for you!
Room Divider – if you want to have a sense of division between the various areas of your main living space, there are some great designs and fantastic choices using room dividers to segment and partition different areas of your home. Or you can even use book shelves as dividers, to provide a sense of division between your functional living areas.
Conclusion
Whatever your design choices, those residing in small, confined spaces must get creative with their storage ideas. If you're living in a small area and need an effective way to keep your belongings organized and clutter free, we've highlighted some basic ideas to expand your space:
Multi-use containers are fashionable stackable items that can be used as furnishing pieces or placed wherever needed.
You can also add storage inside chests or ottomans.
Wall-mounted cabinets and convertible furniture – sofas with built in drawers beneath the seating area – are perfect solutions along with vertical shelving units and over the door storage solutions.
Decluttering your home will help you organize all of your items more conveniently into storage containers which can be then stored out of sight in areas such as closets, under bed space or around furniture. By making use of multi-purpose furniture, creating clever use of wall shelves, investing in panelled cabinets or opting for wall mounted shelving systems such as floating shelves – there's nothing more satisfying than knowing that everything fits back neatly into it's own dedicated space once again. These clever tips will make living in a small apartment easy and repeatable while life should still feel uncluttered and clean!
We are always excited to hear from our readers and subscribers, so let us know your thoughts on these concepts in the comments below – We love to hear from you! For more great information about home design, architecture and houses, or sustainability, check out all of our other great articles on TAG Level.