In a time when home prices are increasing at a far greater rate than the average income, there are numerous companies working hard to provide small prefab home solutions to offer affordable and practical housing solutions. Kasita is one of the more innovative designs we have seen, and we particularly like the "single package" delivery concept, which means the home is delivered as a single completed unit – this incredibly well designed small prefab home from Kasita is sure to inspire anyone interested in smaller sized home solutions! Check it out!
The Kasita prefab home is build to be a stand-alone structure that can be placed easily within an existing yard, or as a small prefab home on an acreage, lake property, in mountains or the forest. This flexibly is a large part of the attraction with such a building, and certainly adds to the appeal. Furthering the attraction of these structures, is that they are designed and build to be fully 'stackable', meaning that larger structures can be created, as needed. The main structure is called the "Independent", and when combined in stacked combinations, Kasita refers to these as their "community" build.
Kasita Small Prefab Home – The Independent
The team at Kasita has spent a lot of time working on their designs, and fine tuning every detail. Their designers and engineers have spent over one thousand hours in creating this home, which is the winner of micro-home awards, and exemplifies innovation and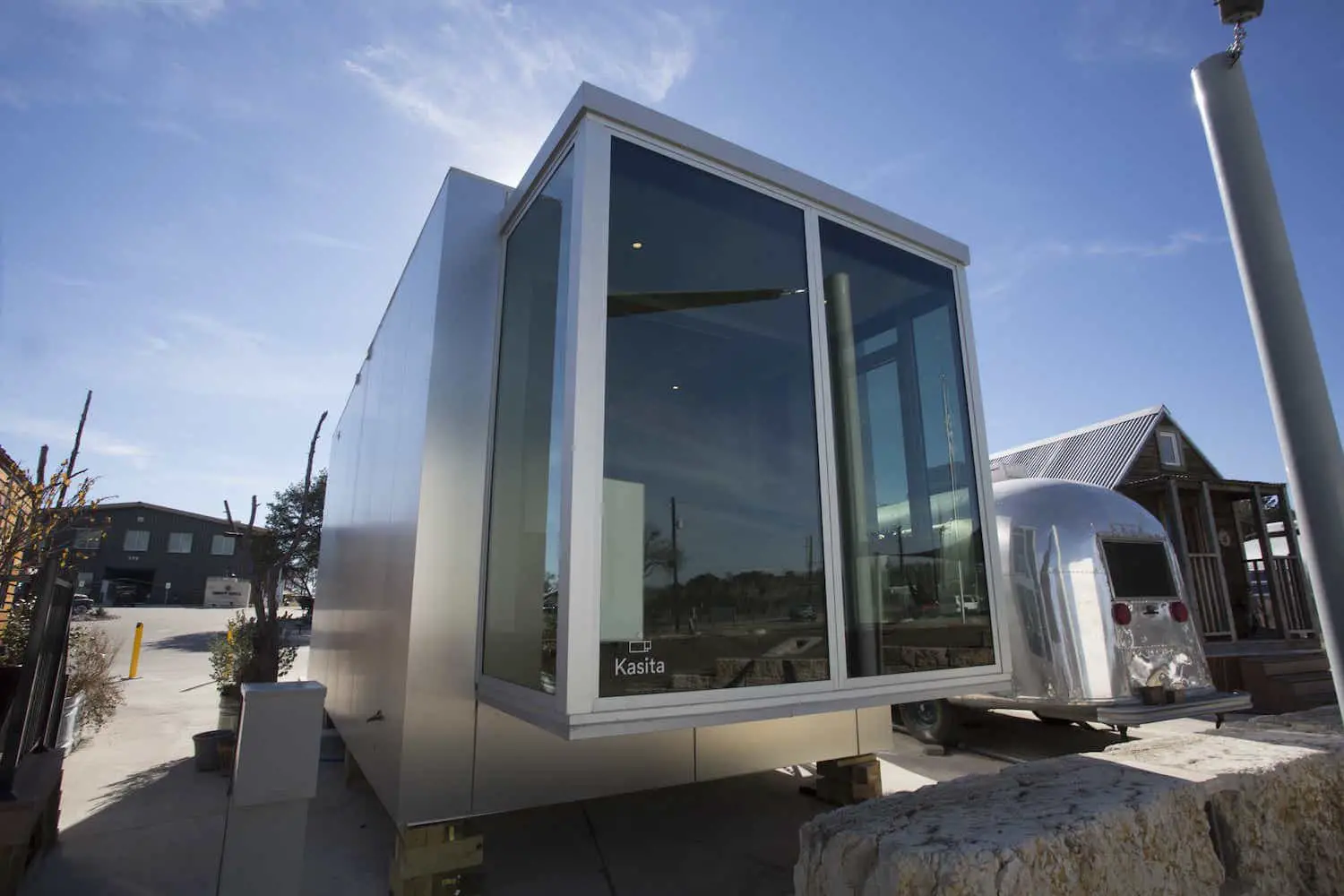 creativity. The Kasita home is an excellent choice for anyone interested in simplifying their living environment – as they say "enough space for everything you need and nothing that you don't". The Kasita also excels as additional space to be added to existing properties. It can be used by existing property owners that would like some extra space, or as a guest home, backyard 'buckie', in-law/granny suite, or even an additional guest rental property. All of this on top of its use as a fantastic primary dwelling for those interested in a more simple living situation.
The Independent, their primary home unit is provided in three basic types – called Level I, Level II, and Level III.  The basic common floor plan can be modified to suit the needs of the owner, and the other specifications are provided below.
The Independent – Basic Floorplan and Dimensions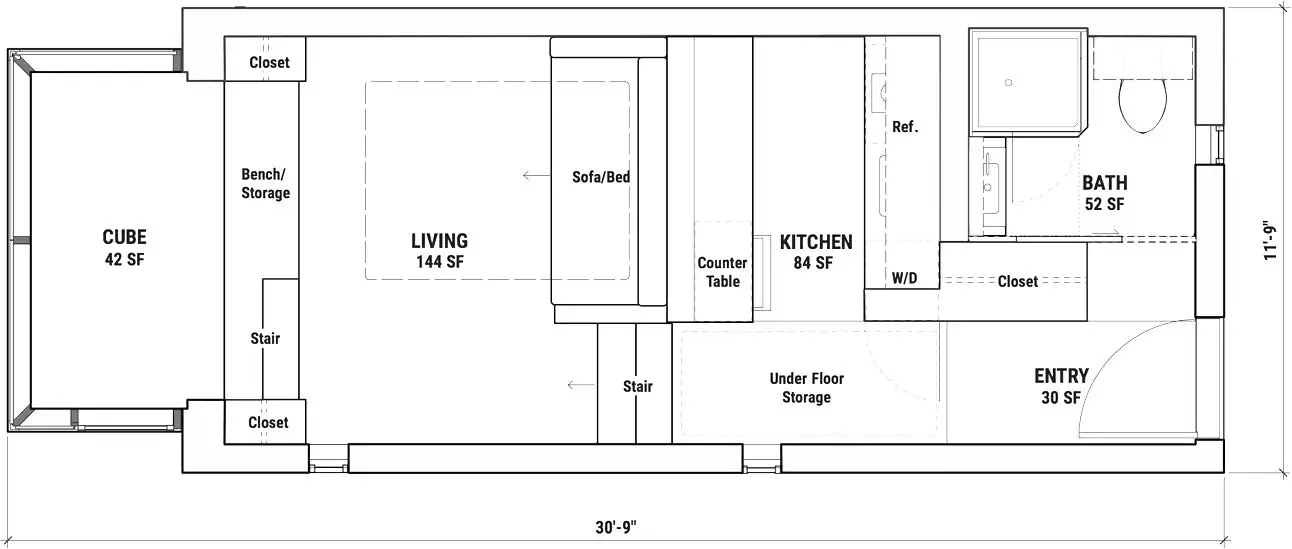 Dimensions:
Width: 11' 9"
Length: 31'9"
Height: 12'5"
Space: 374 sq. ft.
Max ceiling height: 10'2"
Pricing & Options – Level I, II & III
LEVEL I – $89,000
FINISHING
APPLIANCES

Curtain + Rod Shower
Steel Doors
Manual Blinds Flooring
Delta® Fixtures

Ceiling Fan
Electric Water Heater

EQUIPMENT & TECHNOLOGY
LEVEL II – $109,000
FINISHING
APPLIANCES

Hardwood Flooring
Delta® Fixtures
Frameless Glass Shower
Bed Assembly
Glass Front Door
Manual Blinds

Gas Water Heater
GE® Vent Hood
LG® Appliances
Arpa Induction Cooktop
Ceiling Fan

EQUIPMENT & TECHNOLOGY

Kasita Home Automation
Loxone Lighting
Network
Living/Bedroom Speakers
Sonos® Connect
Amazon® Dot

 

LEVEL III – $129,000
FINISHING
APPLIANCES

Casper® Mattress
Hansgrohe® Fixtures
Frameless Glass Shower
Reading Lights
Hardwood Flooring
Upgraded Storage
Glass Front Door
Bed Assembly
Automatic Blinds

Haiku® Ceiling Fan
Gas Water Heater
Bosch® Vent Hood
Bosch® Appliances
Arpa Induction Cooktop

EQUIPMENT & TECHNOLOGY

Amazon® Dot
Bathroom Speakers
Home Monitoring
DoorBird® Video Doorbell
Kasita Home Automation
Living/Bedroom Speakers
Sonos® Connect
Loxone Lighting
Network
Interior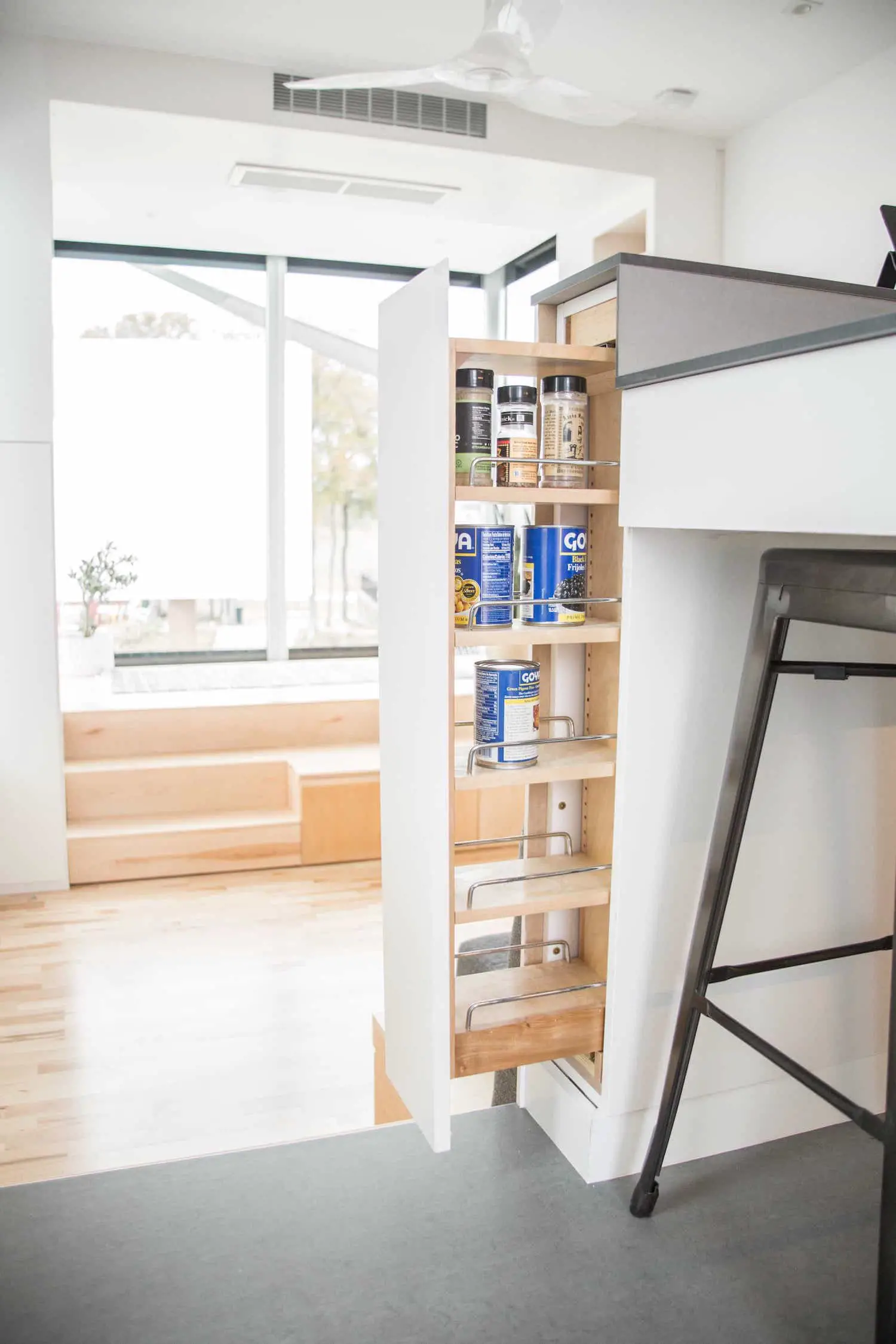 One of the great highlights in this home is the truly innovative use of space in the interior, and the great choice of design elements that really make this home remarkable.  They have made great use of space, and come up with some brilliant ideas to ensure that no space is left wasted.   One of their points when presenting the home is that they strive to ensure that "every aspect of your living space makes your life simpler and fuller", and they have really found an excellent balance to ensure this goal is met.  A full gallery of the Kasita is available at the end of the article.
The Buying Process
Obviously, like most homes, you will be responsible to purchase land, or have a location for the Kasita. All foundations, water and power services, as well as any other required connections must be installed prior to the structure being delivered. Additionally, any permitting or municipal paperwork should be completed prior to delivery of the product.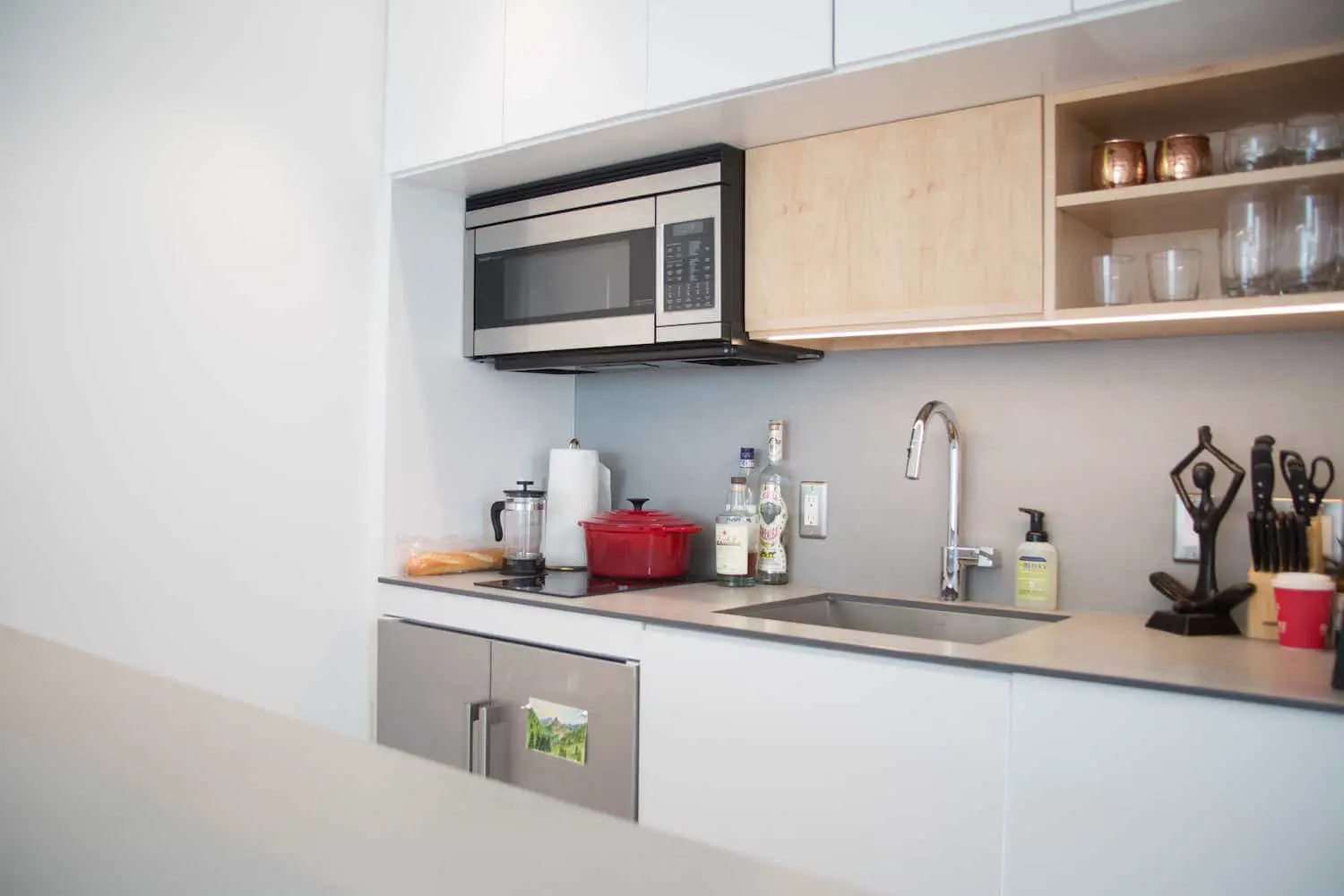 Kasita has provided an overview of their process, which is valuable when reviewing the structure, and provides some great details that will be helpful in making your plans. You can find their process overview here.
Summary
We really think these homes from Kasita are brilliant solutions, with fantastic interior solutions. From design, to their use of sustainable materials, and the attention to space enhancing features like large windows and glass doors, these are remarkable homes! If you like this idea, check out some of our other prefab home ideas.
Let us know your thoughts, we love to hear from your experiences, and try to respond as quickly as possible!  To stay up-to-date on all our articles, tutorials, product ideas and inspirations – subscribe to our newsletter and stay in touch!
Gallery