A-frames have often been lauded for their ease of building, as well as their relatively low-cost, though at the same time are often derided for making impractical use of space, or for being too simple. In 2018 though, things have changed, and the designers and builders at Avrame have reimagined the A-Frame house into a truly beautiful and practical home, and they do so at very reasonable cost. These homes, designed and built in Estonia, can be customized and delivered around the world to customers to either build themselves, or work with local contractors to complete these beautiful looking dwellings.
The A-Frame House by Avrame
Avrame has created 11 different designs of the A-frame house, each with something unique and inspiring. The homes range from 42 m2 (450 ft2) to 120 m2 (1292 ft2), and include all the features and amenities you would expect from a modern home. Additionally, these dwellings are modern designs, and use a range of energy saving components and building materials that set them apart from many traditional homes.
The A-frame home models designed by Avrame are identified by their overall size, with their basic designs named the "Solo", "Duo" and "Trio" with a number after each that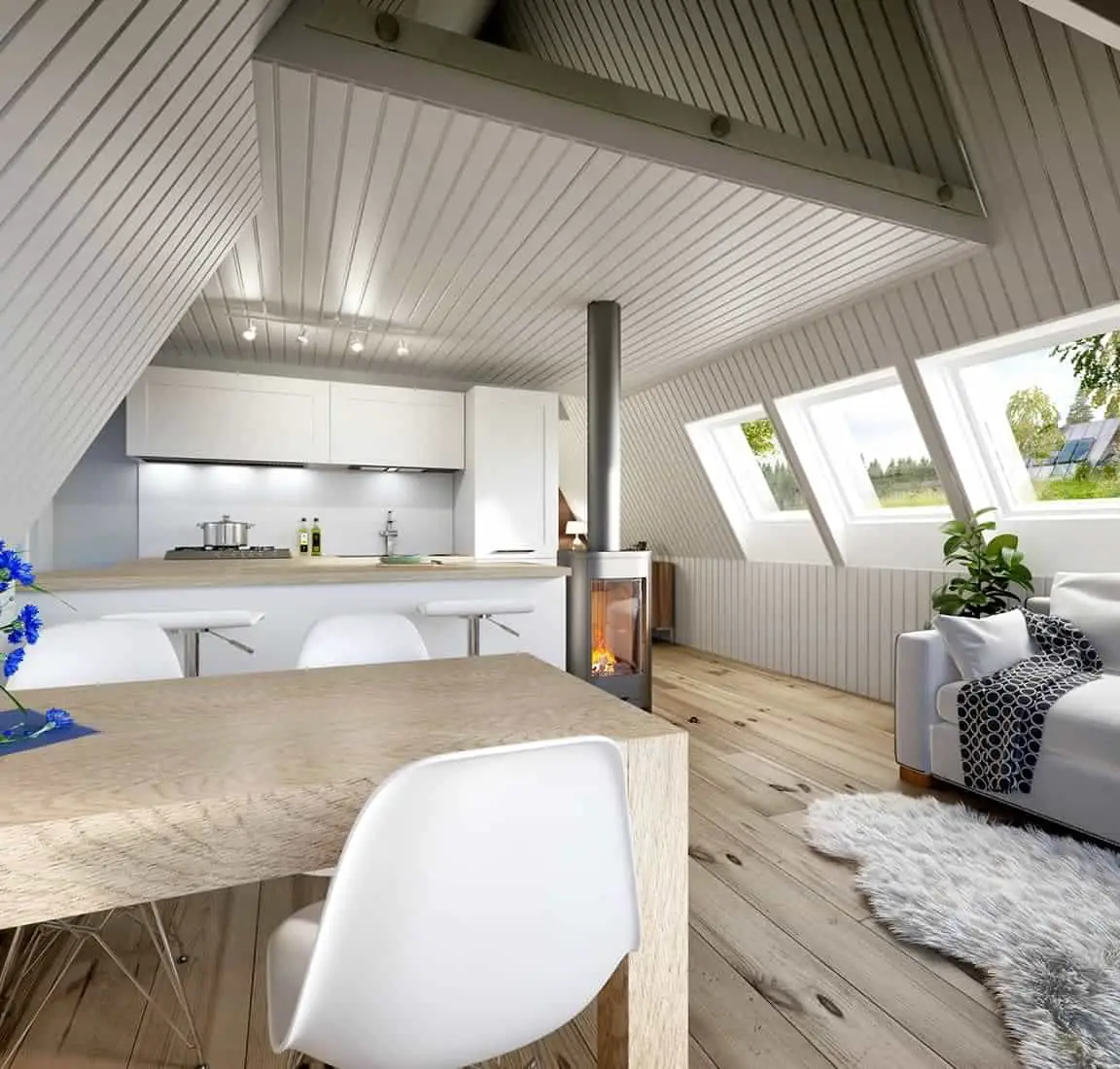 highlights is square footage (or meters in this case). Each of these great homes is re-imagined into a variety of unique stylings and sizes that make up the Avrame range. This means they genuinely offer a house that can fit almost any size and budget, and as they state, they "have options for everything from backyard sheds to family-sized houses, and everything in between". So depending on the size and scale of house you are interested in, Avrame caters to a broad range of potential home owners with a well-rounded group of products, and some really great designs.
One of the most attractive aspects of an A-frame house has always been their relatively low cost, and this continues with the homes from Avrame. The basic home pricing starts at around 4500 Euros ($5230 USD), and upwards to around 29,000 Euro ($33,700 USD) for their largest homes. These are home packages, and obviously do not include the necessary site work and utilities that need to be completed prior to placing your home on a property. That said, when it comes to options for solar panels, the a-frame's roof design is naturally optimum for panel placement, and offers some clear advantages over other home designs, and this offers home owners with additional options for powering their homes. It is clear that Avrame have worked to develop a building system that reduces cost, while ensuring the inclusion of substantial energy efficient features and quality construction materials.
What's Included
The structural components that are included with the Avrame A-Frame house allow for the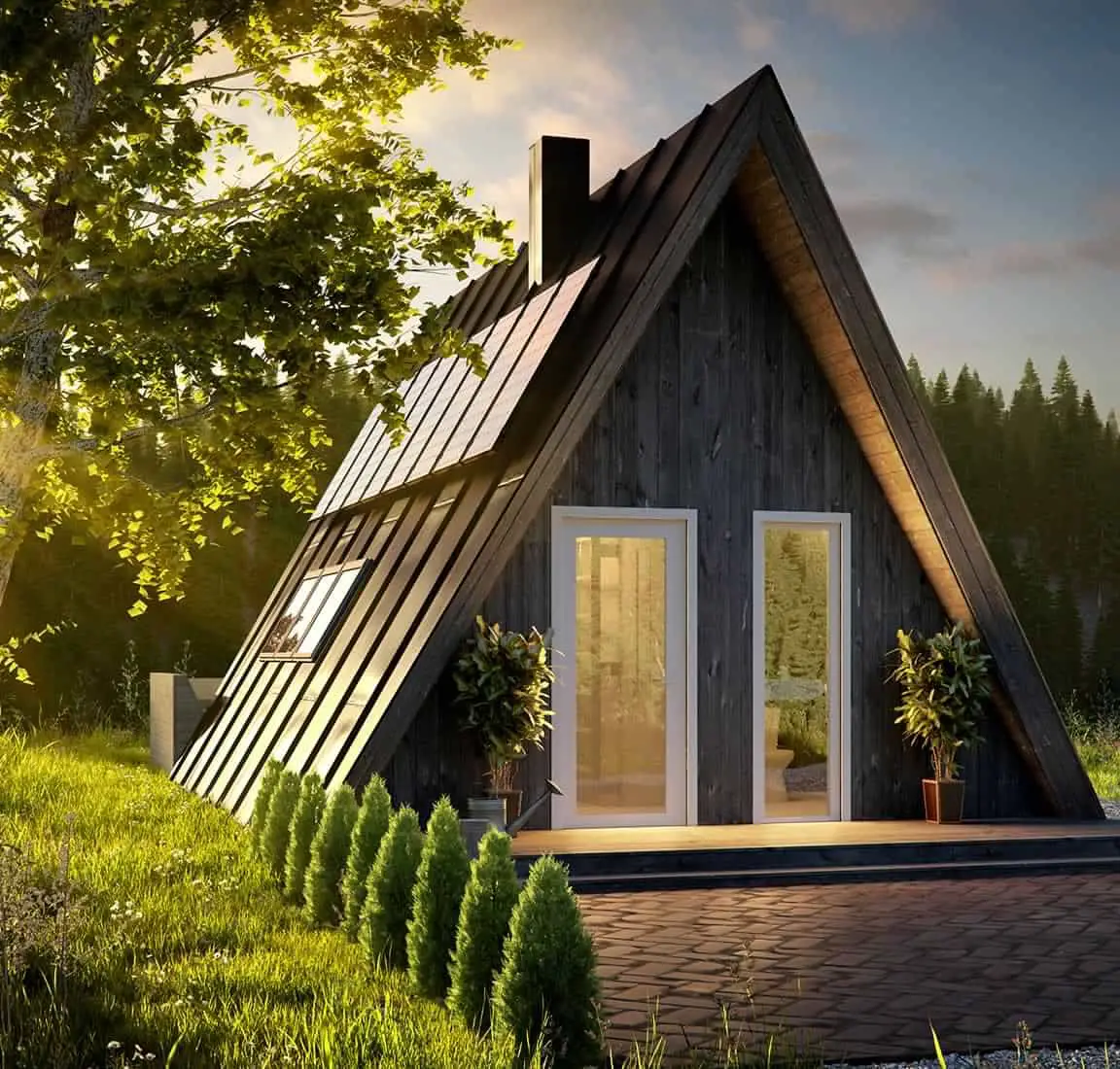 complete construction of the dwelling shell. From graded timber structural trusses, to roof underlay, screws, nails and silicone. The kit also includes PVC windows and doors, as well as all external doors. Basically, the kit is a completed shell structure, ready for the home owner to create and build an interior to their liking. Optional extras can be purchased including, roofing, cladding, additional skylights and most everything else. Though, in most cases, it may be more cost effective for consumers to purchase these materials locally. It is an impressive and affordable option that are definitely looking at in more detail.
Pricing & Delivery
As mentioned above, the pricing ranges depending on the size of A-frame house design you choose, though as a basic kit, these options look very affordable. The basic home pricing starts at around 4500 Euros ($5230 USD), and upwards to around 29,000 Euro ($33,700 USD) for their largest homes. The process the Avrame has outlined is basically set as a four step procedure to have your home ready to build and live in. From first contact, to moving in, the timing ranges from between 4 and 8 months, with the timing being dependent on customizations and design changes, and preparing plans and other important items. All of that said, these are fairly comfortable build times, and definitely increases the interest in these great homes. They do state that once all the components are delivered, that these homes can be built in 4 to 8 days, which is really impressive!
Summary
It is really fantastic to see the A-Frame house making a resurgence, and the folks at Avrame have done a great job at coming up with a new and innovative approach to home building. With such a broad range of homes available, there are a multitude of options for various budgets and requirements, and the relatively fast build time makes these very intriguing. Adding to these benefits, is the A-frame's shape being naturally appropriate for solar panels, and the energy efficient components and design of these homes, and these options look really promising!
For some other great articles on home styles and innovative home designs, check out all of our in-depth articles and videos on Home Styles & Designs, and learn more about some great housing solutions. Also be sure to check out our article on the best prefab houses for sale under 100k – it is sure to inspire.
Let us know your thoughts, as we love to hear from you!! Be sure to Join Us to get future updates and other great inspirations and ideas from TAG Level.