In the rapidly developing market for new and affordable home construction, and a renewed focus on efficiency in building techniques, there are a myriad different companies working to reimagine their products and home designs to meet expectations. The concept of a Passive House has emerged as a motivating component of many new designs, and has lead to numerous new, innovative and imaginative technologies, materials and construction methodologies. The team at Go Logic has been working hard to further their own systems and designs, and their Go Home range has become a beacon of excellence in the passive home marketplace, and has resulted some truly beautiful, practical and inspiring home designs.
What is a Passive House
A passive house, essentially means a home that is built with energy efficiency in mind. The building overall has a smaller footprint on the environment than traditionally built homes, and in many cases means very low energy use, and innovative air quality, power, heating and cooling features. Further to this concept in many cases, is the use of materials that have been produced in a more efficient manner, or that do not use harmful chemicals or treatments in their production. A passive house is one that is environmentally sensitive, and a home that appeals not only to the aesthetic, but also to the impact it has on the world around it.
About Go Logic & the Go Home
Developments in climate change, building science, and information technology converge now in a way that challenges traditional modes of practice. Our collective experience, in leading universities and firms in Europe and North America, leads us to view this moment as an historic opportunity. In response, we've structured our firm differently from most of our peers, as a design/build organization with a robust R&D division. The result has been not only to speed improvements in our buildings' energy efficiency and cost effectiveness, but also to add richness and relevance to their aesthetic dimension.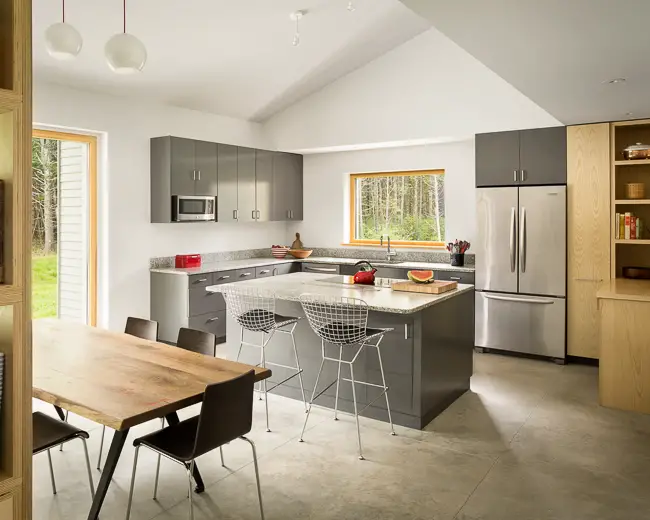 Our baseline for every project is the Passive House standard of energy performance and indoor air quality. We embrace that constraint—just as we embrace site, program, and budget—using it to inform and enrich our architecture. Advancements in communication and monitoring technologies allow us to maintain a robust information loop between our design studio and our field crews, fostering rapid improvement in building performance and construction efficiency, and enhancing our ability to approach performance imperatives as aesthetic opportunities.
Types of Homes
From 600 ft2 to 2500 ft2 – the Go Home comes in a variety of sizes and styles that are sure to appeal to nearly every home buyer.
Sizes and Pricing
Go Logic has attempted to make their pricing as transparent as possible, and to provide realistic and reasonable estimations of the cost for their homes. In general terms, they provide estimations both on total price, and the cost per square foot, which is helpful to anyone who may be considering a new home. The basic overview is provided as follows:
[table id=8 /]
Passive House Package and Inclusions
To help you plan and budget for your new home, we've simplified the pricing of our house designs. The GO Home Base Prices above include all of the architecture and construction work on your new house, as well as the site improvements required to construct it on a straightforward building lot:
Planning, pricing, and preparation
Excavation and grading required to install a slab-on-grade foundation
Our patented superinsulated slab-on-grade foundation
Our panelized, superinsulated, weathertight, air-sealed building shell
Interior walls and floors
Triple-glazed windows and exterior doors, imported from Germany
Durable exterior siding, roofing, and trim
Mechanical systems, including a high-performance heat-recovery ventilation system and electric baseboard heating
Interior finishes, doors, and casework
Kitchen and bathroom cabinetry
Plumbing and electrical fixtures
Paint and other applied finishes as required
Utility connections to:

Potable water supply
Waste disposal
Electrical utility
Summary
These passive home concepts from Go Logic are reasonably priced and attractive solutions for those looking for a great home solution, or even just a small workspace or studio. The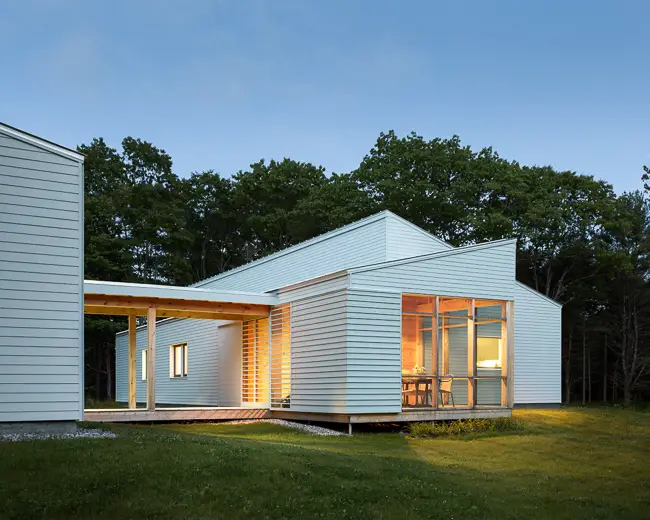 construction, eco materials and multitude of available options are well thought out, and their commitment to building with an environmentally conscious mandate is certainly appealing.
For some other great articles on passive houses, studios and other great homes ideas, check out our in-depth article on Pole Barn Homes, and learn more about some remarkable home solutions. Also be sure to check out all of our articles on Backyard Bunkies, Garden Houses and Sheds, and all the various inspirations that we've highlighted at TAG Level.
Let us know your thoughts, as we love to hear from you!! Be sure to Join Us to get future updates and other great inspirations and ideas from TAG Level.