Modern times mean modern prices, and traditional home prices have been outpacing income for a long time, becoming increasing expensive and out of reach for many potential homeowners. In the past, it wasn't uncommon for people to attempt to build their own homes, but with modern building codes, regulations, permits and other municipal requirements, the task has become increasing complicated and convoluted. In order to successfully construct your own home, it is now more common to hire contractors at enormous expense, or simply buy pre-built homes with all the associated markup and high cost. There are numerous solutions to this dilemma however, and recently there has been increased interest in building a Pole Barn Home as a great solution to a beautiful and affordable residence.
What is a Pole Barn Home
The history of the pole barn is rooted in farming, where they have been built as practical and affordable buildings for a multitude of different uses – from barns, to utility building and garages, to chicken coups and storage sheds. These buildings were relatively quick to build, and provided all the needed utility at a low cost. A key differentiator between these buildings and a pole barn home is the foundation used. Traditional pole barns normally don't include a foundation as you'd think of for a home, but rather stand on poles that are secured and driven into the ground to provide strength and support for the structure. This concept provides sufficient strength for their intended use in traditional cases, but for a pole barn home, must include increased post strength and treatment, as well as concrete pillar foundations and concrete slab base construction.
The classic pole barn is normally covered in aluminum sheets, or in wooden slats. Modern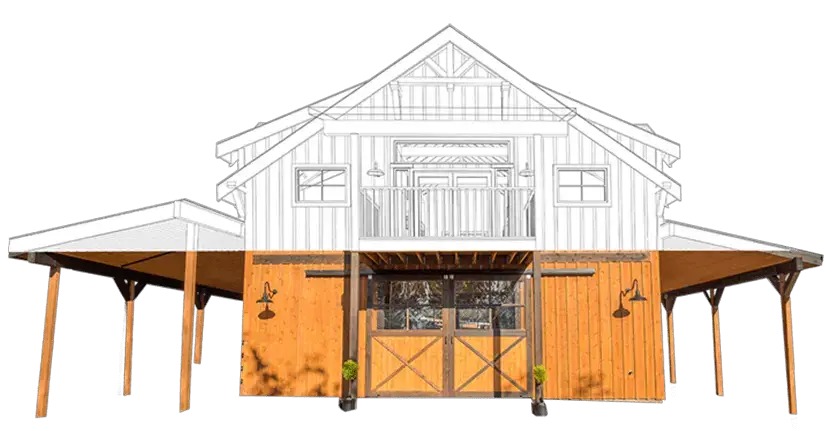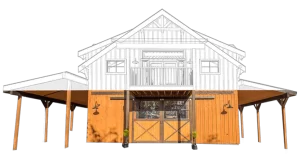 pole barn homes however, can be clad in a variety of materials, and when completed are nearly indistinguishable from a traditional home, and in many cases provide more space and makes the home's interior open and airy, which is often sought after. In truth, the options with post frame buildings and pole barn homes are unlimited, and provide a great canvas for homeowners to design and create some incredibly innovative and beautiful homes.
Types of Pole Barn Houses – Post Frame Construction
A pole barn, sometimes referred to as a barndominium, can be purchased as a kit home with all the materials and components included for construction, or can be designed/engineered independently, leaving the purchase of materials to the homeowner. Either option is effective, and depends largely on individual circumstances and choice, but each comes with its own pros and cons that should be considered.
1. Kit Home Pole Barns
The basic format and construction of a pole barn home's shell is much as mentioned above, however the main differentiator will be the methods used to construct it, and how the materials and plans are sourced and created. One option to consider is to purchase a pre-designed and pre-cut Kit Home. Such an option provides the homeowner with everything they need to construct the building and all the materials to get the project completed.
A kit home is basically a turn-key solution that provides the builder with all the pre-cut pieces, exterior cladding and all the other necessary components to build the shell of the home. It is
important to recognize that most kit homes, whether a pole barn house or otherwise, are usually only providing the framed building and shell of the home, so all the interior design and build-out needs to be completed separately. It will be important to factor in whether windows and doors are included as part of the kit pricing, as this can substantially impact the cost to build a pole barn, or other post-frame building. This format of building also normally does not include insulation, electrical, ventilation or plumbing in the pricing, and all of this needs to be accounted for when determining the cost of the final home in order for it to be ready to be lived in. Additionally, costs that are quoted usually do not include the price of concrete piling and/or foundations or slab for flooring, and this must be added to your budget when preparing your final cost estimations.
The option to self-build, or to hire a contractor to complete the build is the final choice with a kit for a pole barn home, and this decision will obviously greatly impact the final cost of the house.
2. DIY Construction
In a DIY scenario, a homeowner would find a pre-existing plan for a pole barn home, or work with a qualified designer/engineer to develop a solid set of plans that will provide all the details necessary to build the home. This is then followed by purchasing the needed lumber and materials to build the shell of the home. If you have skills in construction, this method obviously provides the greatest cost savings, though inexperience and lack of knowledge will take its toll if a lot of mistakes are made, and can create numerous problems along the way. This isn't to say such an approach is not possible, though any would-be builder is well advised to be very realistic in their approach to such a DIY project, and be certain to get the best advice and support throughout the process to ensure the best success.
3. Contracted Designers, Developers & Builders
The final option, and perhaps the most common, is having a pole barn house designed and built by a professional developer/contractor. There are a number of great pole barn and metal building companies specializing in this area. Each has demonstrated excellent skill and service in completing such projects, and provide a comprehensive portfolio of completed projects and testimonials. This experience and expertise is sure to provide excellent final results, but obviously comes with additional costs. Working with these companies means a homeowner can custom design their home, in addition to ensuring they receive more than just the 'shell' of the home, and can include the designs and construction of the interior components of the home – ultimately providing the homeowner with a house that is ready to move in and enjoy.
Materials & Design – Residential Pole Barn
While traditional pole barns have been made with wood, more modern post-frame residential buildings and pole barn home construction is now very easily and cost effectively available in metal, which can offer a number of benefits when compared to wood construction. While there is a general misconception that metal buildings mean the structure is more loud, or prone to other problems, this couldn't be further from the truth. In fact, using metal framing and structure can positively enhance the durability of the home, and increase the lifetime and lower the maintenance costs of the property.
The design of residential pole barn homes vary, and whether you have existing pole barn house plans to work with, or are creating a custom home from scratch, the type of building and the basic home design at the core will remain similar from a structural perspective. If you are looking to source
barndominium plans
to build your home, there are many great suppliers of
barndominium floor plan
s available for you to build a home that suits your style. Most plans feature all the modern amenities you'd expect from stick-built houses, while offering the benefits and value of post frame structures. The building materials, and the construction process can be handled by contractors that are familiar with post and beam construction methods and will handle the construction on your behalf if you do not have the necessary experience, though substantially raising the overall cost of your build.
Benefits of Pole Barn Homes and Post-Frame Construction
Energy-efficient windows
Less site preparation
Stained concrete floors
Engineered concrete slabs
Spray foam insulation
Open floor plans
Greater strength due to transfer of force into the ground
High ceilings
Site selection is flexible
Low cost foundations (pins and concrete posts)
Fast build times
Large open living space – no load-bearing walls
Fewer thermal breaks – greater energy efficiency
Versatility – variety of sizes and uses
Costs, Delivery & Build Time to Build a Pole Barn
Like most things in life, there are always caveats to the cost of building any home, and this is clearly the case even with a pole barn home and pole buildings in general. That said, as a starting point and depending on the house plan, these fantastic homes can start with the basic shell cost as low as $20 USD per ft2 for those building on their own. To build a pole barn house using a contractor or builder, prices increase to around $45 USD per ft2.
There are many things that will make a difference to the cost of a pole barn house. Depending on whether you will choose a self-build, or choose a contractor. Additional costs related to labour, roof, siding, material, shipping, insolation, permits, insurance, and the electrical, hydro, plumbing and other services to run the building – all of these need to be considered and added to your budget when planning any home.
All of these things taken into account, pole barn houses are generally less expensive that traditional stick built homes, and can offer a great deal of flexibility. Once you have chosen your design, or the pre-built kit home version, delivery is usually completed quickly. Each company will provide specifics of delivery time, and depending on your location, delivery will be fairly straight forward. In most cases, pole barn homes are a much faster build than traditional homes, and it is likely you will be living in your home much more quickly than you would with traditional stick built homes. As this article was updated in 2023, it is important to note that a pole barn house cost has likely increased over the past year with both increased lumber costs, and general price increases overall, but these residential buildings remain a cost effective alternative. Additionally, residential pole buildings have increased in popularity, and custom pole barn manufacturers and suppliers continue to innovate their product lines.
Suppliers and Where to Buy
To assist you in your research on pole barn homes, we've compiled a very short list of possible suppliers to guide you. We haven't taken this in any specific order, nor do we necessarily endorse any specific building company. That said, these builders have a broad customer base, and can certainly give you some great pricing and solutions if you are interested in pole barn homes.
We've chosen to provide a quick overview of what one supplier offers in terms of kit sizes, pricing and options, as a way of giving some perspective on what to expect when considering a pole barn house.
Pioneer Pole Barns
Pioneer Pole Barns presents themselves as a "one-stop-shop" for pole barns dwellings, homes and out-buildings.
Sample Sizes and Prices
24′ Width X 40′ Length X 12'4″ Height – Est. Price: $21,139
30′ Width X 32′ Length X 10'5″ Height – Est. Price: $19,034
16′ Width X 24′ Length X 8'4″ Height – Est. Price: $10,953
20′ Width X 24′ Length X 10'4″ Height- Est. Price: $13,527
Additional Suppliers
Mueller Buildings
Morton Buildings
DC Structures/Buildings
Lester Buildings
Wick Buildings
Summary
There are a multitude of great housing options available today, and this roundup of pole-barn houses is intended to provide inspiration, and overview of some the great designs, home building and post-frame home ideas and concepts that are currently available. While this is by no means exhaustive, it highlights some of the more intriguing options and details to assist you in your consideration, whether you are looking for barndominiums, a lake house, information about construction costs, or just comparing details with a conventional home.
Like any growing organization, we work hard to provide the best, and most useful information possible. Please take a moment to show your support by sharing our articles on social media and help us to grow (the buttons are at the top and bottom of the articles), so we can continue to produce more engaging and valuable content – we sincerely appreciate your support!
For some other great articles on innovative housing ideas and small space living, check out our in-depth article on Great Prefab Homes Under 100k, and learn more about some remarkable prefab housing options. Also be sure to check out all of our articles on tiny houses and the various inspirations that we've highlighted at TAG Level.
Let us know your thoughts, as we love to hear from you!! Be sure to Join Us to get future updates and other great inspirations and ideas from TAG Level.
Gallery of Inspirations