Escape Vintage – Modern Tiny Home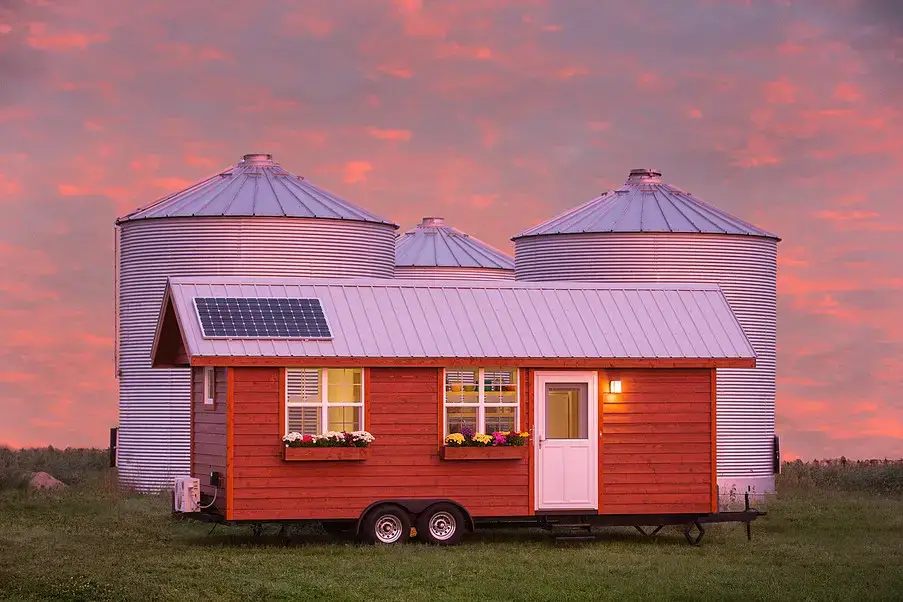 Build: Escape Homes
Dimensions: 29L' x 8.5'W x 9'6″H
Price: Starting at $59800
For over 20 years, Escape Homes has been designing and building cottages, park model homes and tiny houses.  Their experience and design accumen has always been a hallmark of their products, and the latest addition to their collection is no exception.  The new Escape Vintage tiny home inherits all of the elements of design and quality that their team espouses, and the results look really great!  This modern tiny home is retro in its vintage appeal, but still sports all the most modern and fantastic detailing and technology you expect from an Escape modern tiny house.
Starting at $59800, the 29L' x 8.5'W x 9'6″H Vintage boasts up to 315 sq. ft.! The team at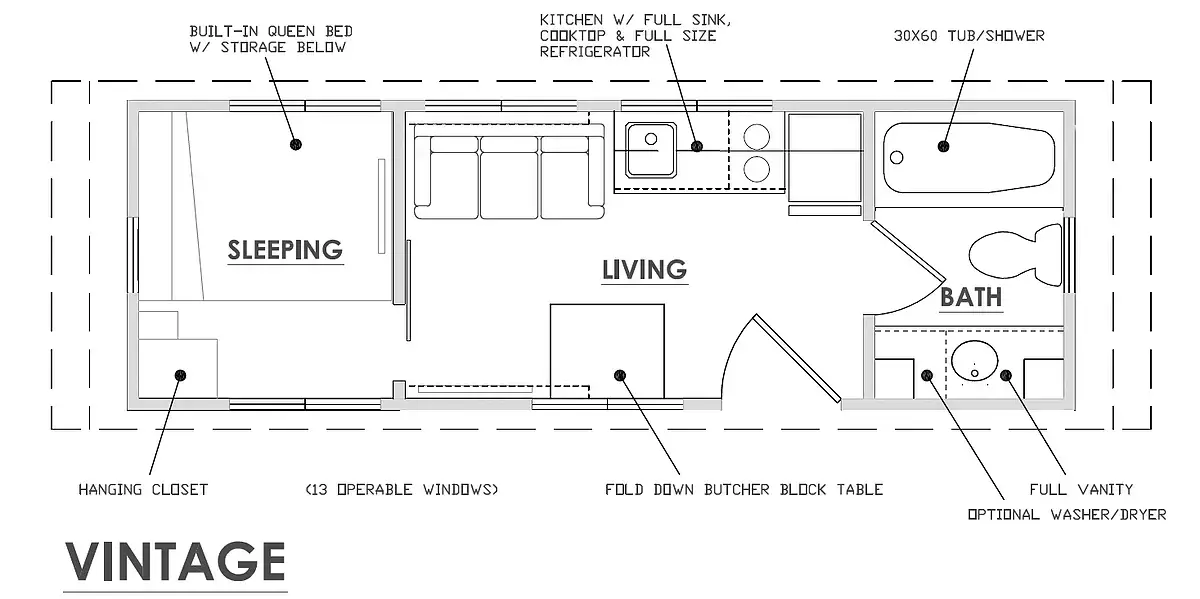 Escape highlight their new addition's architecture as, "clean, quiet, open & both sheltering and connected to nature", and if their other models are reference for comparison, this tiny home is sure to be spectacular in many ways!
The team at Escape goes even further in their efforts, and the Escape Vintage tiny house was designed with all weather living in mind, stating that the home is "able to handle extreme heat and cold. Designed to let you escape the stresses of everyday life no matter the weather".  In addition to their attention to temperature control and comfort, Escape has worked to provide an efficient home, and makes use of LED and other features to minimize the power draw when using electricity in the home.  Solar and off-grid features are available as options ad-ons, and overall, this appears to be a well designed, well thought out, and most important, fantastic looking tiny house!
Having listened to many in the "Small Space" community, Escape includes a spectacular bathroom, complete with bathtub to round out their design.  Their full feature list is provided for your reference:
Size: 29L' x 8.5'W x 9'6″H, up to 315 Sq.ft.
Introductory Price: $59,800
30 day build time
Large Bathroom, Big Vanity and Shower
Large 1st floor bedroom- Queen bed
12 opening windows
Large Dining Table
Storage closets + Cabinets + shelving
Kitchen with cabinets, full size frig, deep sink
Solar Power available & 2 years+ warranty
Overall – this modern tiny house design, and build quality from Escape is a real winner in our opinion, and definitely worth a closer look.  They are offering shipping at a very low rate for the first 10 buyers, listed as only $99 for delivery, so worth communicating with them about that to determine if this is available in your area.  They do offer some customization, so you are able to work with them to get exactly the home you are looking for.  If you are interested in more details, and a full list of features and information, head over to Escape Homes, and have a look at this fantastic new modern tiny house.
We are always excited to hear your comments, and share ideas with you, so feel free to leave us your thoughts and comments below. We regularly provide new and exciting inspirational ideas, tips and information, so join our newsletter to stay in touch with us and keep up to date on the latest in Simple Living!
Gallery
All images via Escape Homes