A great overview of 10 of the most elegant, well designed and amazing tiny house designs in 2018, many models of which are available for you to purchase now! This is a shortlist, curated from a broad list of homes that are available on the market today. This list is intended to inspire those who are interested in the tiny house lifestyle, and to provide insight and perspective to anyone who is curious about what all this 'tiny house' talk is all about. We know that small space living isn't for everyone, and it is an adjustment to consider it for many who are used to a larger and more luxurious lifestyle. That said, it is definitely worth having a look at just how far tiny house design has come over the past short period of time, and appreciate the beauty, design flair and clever engineering that has developed around the tiny house movement. This is our list (in no particular order) of the 10 best tiny houses for sale in 2018 – we hope you are inspired by these fantastic homes.
10 Best Tiny Houses for Sale in 2018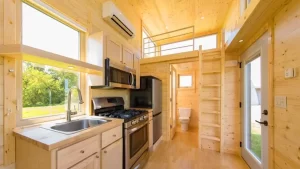 The One XL is a true beauty for those who enjoy wooden textures, and lots of natural lighting. Produced by one of the most respected companies in the small homes/tiny houses market – Escape Homes. This home has a natural and organic feeling, inspired with Japanese flair and Zen concepts. It is deliberately 'airy' in its design, and surrounds the home owner with a genuine sense of comfort. At 30 feet long, this two loft design is 388 square feet of pure zen living. The pine wood interior is bright and soothing, and the very large windows make sitting in this home a delight, as you enjoy the views and nature around you. Definitely worth checking out!