A great overview of 10 of the most elegant, well designed and amazing tiny house designs in 2018, many models of which are available for you to purchase now! This is a shortlist, curated from a broad list of homes that are available on the market today. This list is intended to inspire those who are interested in the tiny house lifestyle, and to provide insight and perspective to anyone who is curious about what all this 'tiny house' talk is all about. We know that small space living isn't for everyone, and it is an adjustment to consider it for many who are used to a larger and more luxurious lifestyle. That said, it is definitely worth having a look at just how far tiny house design has come over the past short period of time, and appreciate the beauty, design flair and clever engineering that has developed around the tiny house movement. This is our list (in no particular order) of the 10 best tiny houses for sale in 2018 – we hope you are inspired by these fantastic homes.
10 Best Tiny Houses for Sale in 2018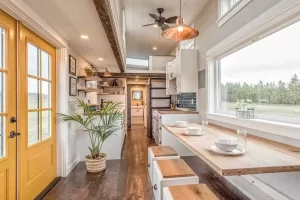 The Westcoast by Summit Tiny homes is an excellent example of blending rustic accents, with modern features. The Westcoast model is a comfortable 34 feet, and features both great design and practicality. The multi-function engineering of many components of the home means that tables can be 'hidden', or opened for use as needed, while retaining a very comfortable and elegant look to your rooms. With farmhouse sink and custom cabinets, the overall 'feel' of the Westcoast is cozy and elegant. An excellent example of a well made, well designed and cleverly engineered home, and definitely worth its place on our list of the best tiny houses for sale in 2018.