A great overview of 10 of the most elegant, well designed and amazing tiny house designs in 2018, many models of which are available for you to purchase now! This is a shortlist, curated from a broad list of homes that are available on the market today. This list is intended to inspire those who are interested in the tiny house lifestyle, and to provide insight and perspective to anyone who is curious about what all this 'tiny house' talk is all about. We know that small space living isn't for everyone, and it is an adjustment to consider it for many who are used to a larger and more luxurious lifestyle. That said, it is definitely worth having a look at just how far tiny house design has come over the past short period of time, and appreciate the beauty, design flair and clever engineering that has developed around the tiny house movement. This is our list (in no particular order) of the 10 best tiny houses for sale in 2018 – we hope you are inspired by these fantastic homes.
10 Best Tiny Houses for Sale in 2018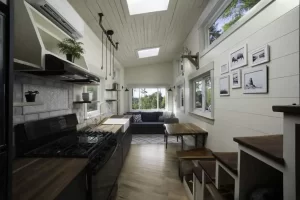 This is a delightful and rustic 24′ tiny house that truly shines in both its simplicity and beauty. Built by Wood and Heart Co., this is one of the more attractive tiny houses for sale in our roundup. It features a rustic exterior, with a bright and airy interior thanks to its many windows and dual skylights – a very fresh and natural feeling. At only 208 square feet, the Legacy packs in all the features you could want, including full-sized appliances and full-bath, lofted sleeping area and plenty of room for lounging and relaxing. The design is simple, though it retains a fashionable and elegant ambiance that makes it very unique. They are fantastic homes that are well worth checking out. There website seems incomplete however, so we recommend heading over to their social media page for contact details, and more information.