A great overview of 10 of the most elegant, well designed and amazing tiny house designs in 2018, many models of which are available for you to purchase now! This is a shortlist, curated from a broad list of homes that are available on the market today. This list is intended to inspire those who are interested in the tiny house lifestyle, and to provide insight and perspective to anyone who is curious about what all this 'tiny house' talk is all about. We know that small space living isn't for everyone, and it is an adjustment to consider it for many who are used to a larger and more luxurious lifestyle. That said, it is definitely worth having a look at just how far tiny house design has come over the past short period of time, and appreciate the beauty, design flair and clever engineering that has developed around the tiny house movement. This is our list (in no particular order) of the 10 best tiny houses for sale in 2018 – we hope you are inspired by these fantastic homes.
10 Best Tiny Houses for Sale in 2018
The Ebéne by Minimaliste
This tiny home, designed and built by Minimaliste in Quebec, Canada is a remarkably well designed, and beautifully crafted tiny house that definitely earns its spot in our top 20 list. Engineered for the cold Canadian climate, the Ebéne offers climate control and insulation that guarantees your comfort from cold -30 degree to +30 degree Celsius temperatures, and does so without impacting the overall design of the home. On the contrary in fact, as this home ticks all the 'boxes' for an incredibly beautiful, modern and practical home that feels as comfortable, as it does functional. Check out our more in depth coverage of the Ebene Tiny House for a more comprehensive overview.
The Coastal Craftsman by Handcrafted Movement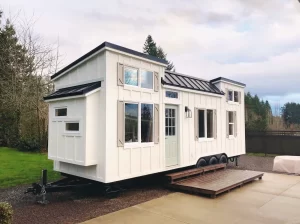 Another brilliant example of quality craftsmanship, and attention to detail, is The Coastal Craftsman tiny house from Handcrafted Movement. This 28′ triple axle tiny house is remarkably well designed, with all the features and functions you'd expect from any home. Their attention to fine detail in creating the 'coastal' ambiance is finely done, and is reflected in the final results of this truly beautiful tiny home.
The Escher by New Frontier Tiny Homes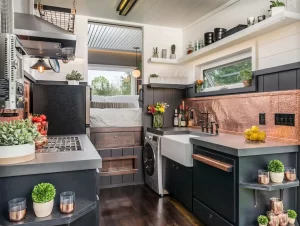 This beautifully and uniquely designed tiny home provides abundant space, and is built on a goose-neck frame, which gives it a fantastic standing height bedroom with a king sized bed. It features some incredibly unique woodwork, with copper highlights to accentuate the brilliant tones of the wood in this home. The bathroom is luxurious by tiny house standards, and even features a walk-in closet! This home is a mix of modern sophistication and contemporary bravado, and it really works to create an incredibly attractive home! The folks at New Frontier Tiny Homes have done a truly remarkable job in the creation of this brilliant home, and deserves its place in our list of the top 10 list of the best tiny houses for sale in 2018.
The Denali XL by Timbercraft Tiny Homes
A truly remarkable country style tiny home, this enormous 41′ tiny home packs everything into an incredibly well crafted, and beautifully designed home by Timbercraft Tiny Homes. It features deep country farm style sink, beamed ceilings and wood throughout to create a natural yet modern country feel. Built on goose-neck triple axle trailer means this home features a full sized bedroom with plenty of head space, and a large and full featured bathroom. By tiny house standards the kitchen is very large, and includes full sized appliances! We are truly in love with this home, and it has definitely earned it's place as one of the best tiny houses for sale this year.
The Kestrel by Rewild Homes
If you are a lover of soaker tubs, and lots of bright and natural light in your home, than this amazing home from Rewild Homes will definitely be something you want to look more at. This home is smaller than some of the others we have highlighted in our list, but as a result, the Kestrel has incredible amounts of storage to make your tiny house living far more comfortable. All of that said, the focus feature in this home is the large bathtub, and windows with a view to the outdoors, so you can soak and enjoy the stars and the moonlight! A wonderful home with plenty to offer, we think this home is worth checking out as a great option for small homes to buy in 2018!
The Westcoast by Summit Tiny Homes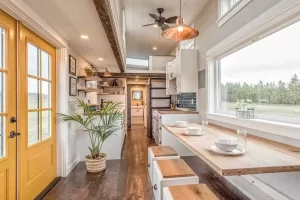 The Westcoast by Summit Tiny homes is an excellent example of blending rustic accents, with modern features. The Westcoast model is a comfortable 34 feet, and features both great design and practicality. The multi-function engineering of many components of the home means that tables can be 'hidden', or opened for use as needed, while retaining a very comfortable and elegant look to your rooms. With farmhouse sink and custom cabinets, the overall 'feel' of the Westcoast is cozy and elegant. An excellent example of a well made, well designed and cleverly engineered home, and definitely worth its place on our list of the best tiny houses for sale in 2018.
The ONE XL by Escape Homes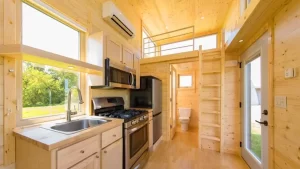 The One XL is a true beauty for those who enjoy wooden textures, and lots of natural lighting. Produced by one of the most respected companies in the small homes/tiny houses market – Escape Homes. This home has a natural and organic feeling, inspired with Japanese flair and Zen concepts. It is deliberately 'airy' in its design, and surrounds the home owner with a genuine sense of comfort. At 30 feet long, this two loft design is 388 square feet of pure zen living. The pine wood interior is bright and soothing, and the very large windows make sitting in this home a delight, as you enjoy the views and nature around you. Definitely worth checking out!
The Legacy by Wood and Heart Co.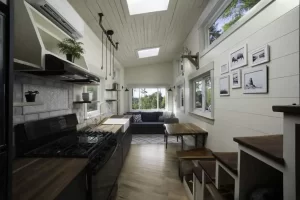 This is a delightful and rustic 24′ tiny house that truly shines in both its simplicity and beauty. Built by Wood and Heart Co., this is one of the more attractive tiny houses for sale in our roundup. It features a rustic exterior, with a bright and airy interior thanks to its many windows and dual skylights – a very fresh and natural feeling. At only 208 square feet, the Legacy packs in all the features you could want, including full-sized appliances and full-bath, lofted sleeping area and plenty of room for lounging and relaxing. The design is simple, though it retains a fashionable and elegant ambiance that makes it very unique. They are fantastic homes that are well worth checking out. There website seems incomplete however, so we recommend heading over to their social media page for contact details, and more information.
The Salish by West Coast Homes
This is more of what most would consider a "park model" tiny home, and being such, packs a whole lot of beauty into a small 400 square foot package. Created by West Coast Homes, the Salish is designed with West Coast flair, colour and ambiance. Surrounded by large windows, allowing plenty of natural light, and featuring full sized appliances, a large kitchen and a full sized loft – there is something for everyone in this incredibly well designed beauty of a home. The model shown here includes decking to add even more potential to this great home, and we believe it is one of the most intriguing designs for a small home we have seen over the past year or two. West Coast is a custom home builder, both large and small, and have produced a number of similar tiny homes with small footprints – it is definitely worth checking out their entire collection of custom homes.
The Haven Teton by Everywhere Co.
It is hard to overstate just how spectacular The Haven Teton tiny house is. Build by Everywhere Co., this 38-foot home is about as luxurious and well designed as you can get in a tiny home on wheels. The design inspiration is entirely Alpine and Western, and intended to exude an ambiance of mountain living, and being close to the natural environment around us. It features enormous windows for enjoying the outdoor views, while providing incredible natural lighting in. While we never like to pick favorites, for us this tiny home ticks all the boxes to make it literally one of the most beautiful and comfortable tiny houses for sale at the moment. Definitely worth checking out!
Summary
There are a multitude of great tiny houses for sale at the moment, and this roundup is intended to provide an inspiration and overview of some the great designs, ideas and concepts that are currently available. While this is by no means exhaustive, it highlights some of the more intriguing options that you might want to consider if you are looking to simplify your life, and transition to small space living. It is important to restate that our list is not in any particular order, as it is difficult to select favorites when such amazing skill and craftsmanship has gone into building these fantastic homes! That said, we have a favorite among the team here at TAGLevel, and are certain that the discussions over great design and practicality will continue ad infinitum!
For some other great articles on tiny houses and small space living, check out our in-depth article on The Ebéne Park Model tiny house, and learn more about this innovative and well built home for colder climates. Also be sure to check out all of our articles on tiny houses and the various inspirations that we've highlighted at TAG Level.
Let us know your thoughts, as we love to hear from you!! Be sure to Join Us to get future updates and other great inspirations and ideas from TAG Level.