A great overview of 10 of the most elegant, well designed and amazing tiny house designs in 2018, many models of which are available for you to purchase now! This is a shortlist, curated from a broad list of homes that are available on the market today. This list is intended to inspire those who are interested in the tiny house lifestyle, and to provide insight and perspective to anyone who is curious about what all this 'tiny house' talk is all about. We know that small space living isn't for everyone, and it is an adjustment to consider it for many who are used to a larger and more luxurious lifestyle. That said, it is definitely worth having a look at just how far tiny house design has come over the past short period of time, and appreciate the beauty, design flair and clever engineering that has developed around the tiny house movement. This is our list (in no particular order) of the 10 best tiny houses for sale in 2018 – we hope you are inspired by these fantastic homes.
10 Best Tiny Houses for Sale in 2018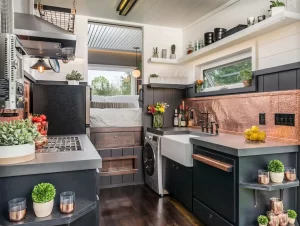 This beautifully and uniquely designed tiny home provides abundant space, and is built on a goose-neck frame, which gives it a fantastic standing height bedroom with a king sized bed. It features some incredibly unique woodwork, with copper highlights to accentuate the brilliant tones of the wood in this home. The bathroom is luxurious by tiny house standards, and even features a walk-in closet! This home is a mix of modern sophistication and contemporary bravado, and it really works to create an incredibly attractive home! The folks at New Frontier Tiny Homes have done a truly remarkable job in the creation of this brilliant home, and deserves its place in our list of the top 10 list of the best tiny houses for sale in 2018.